Sabrina Chou
Sabrina Chou is an artist and doctoral candidate in practice-based art.
Sabrina investigates structures and systems of belief, and how we perceive our surroundings. In her work and writing, she uses humor to reconfigure body economies, sociality, and institutions. Sculptures—composed of fabric, found objects, and text—purposefully have an ambiguous status, between aesthetic proposition, functional use, and absurd adaptation. Sabrina's current research is on the possibility of recovering and disarming social forms through the application of a soft procedure to societal structures, economic exchanges, and architectural typologies. Futility is a possible effect.
Originally from Los Angeles, Sabrina received her Master of Fine Art from the Piet Zwart Institute in Rotterdam, the Netherlands and her Bachelor of Arts in Visual and Environmental Studies from Harvard University in Cambridge, USA. Sabrina has exhibited internationally in artist-run spaces, cultural institutions, and multiple former textile factories. Sabrina's DPhil research is supported by the Clarendon Fund and the St John's College Ioan and Rosemary James Scholarship.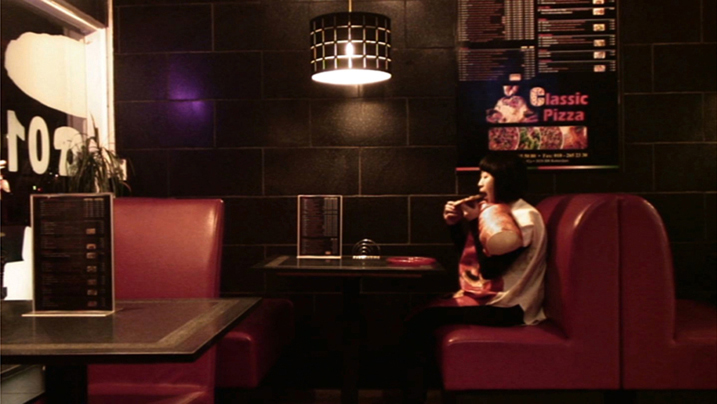 Sabrina Chou, still from PIZZA PIZZA, Video (11:06), 2013 / Sabrina Chou