Claudia Sarnthein
Claudia Sarnthein is a Senior Ruskin Tutor (Studio Practice) on the Ruskin's BFA programme.
I am mainly guided by the secret of the image, and perhaps less by a linear narrative or rationale. Working predominately with mixed-media installations that combine painting, drawing, embroidery and objects, the work emerges through a long process of condensation in search of pictorial incidents. The visual world, it seems to me, has foremost to do with reading distances and the crystallization of language- therefore my almost naive attempt to hold and fortify the fragile conversational space between things. I am dealing with constellations and magnetic attractions. Precise notations help to arrange and structure modes of display, the floor often serving as both carrier and pathway. Each work is quietly aiming for preciousness, as tailor-made offerings they seem to navigate my central European heritage. And there is, of course, looking, thinking and editing- vertically as well as horizontally.
Claudia Sarnthein is a German/Austrian artist, based in London. She studied Art History at the Institut für Kunstgeschichte/Universität Wien in Vienna and Design at the Hochschule HAW/College of Art & Design in Hamburg. After working as a costume/textile designer in Hamburg and Paris for a number of years, she graduated with an MA in Fine Art from the Royal College of Art, London.
She has exhibited internationally with solo and group shows at institutions including Künstlerhaus Bethanien, Berlin; Imperial College, London; Württembergischer Kunstverein, Stuttgart; Frappant e.V. Galerie, Hamburg; Drawing Room HU, Budapest; Kunstsalon, Berlin; Tate Modern Bookshop, London and Jerwood Space, London. Publications include Von Alters Her (2018), White Pages (2015), An Jacob (2007), Lache Nicht, Weine Nicht…(2007), Mutter Seelen Allein (2005) and On Fragments (2004).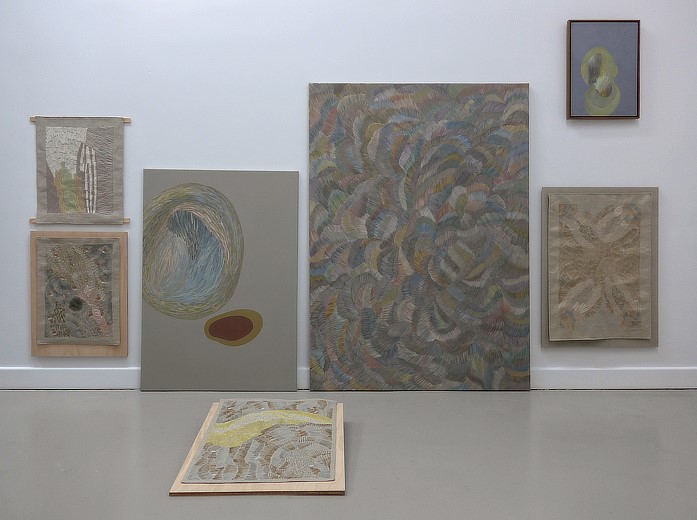 The Side Chapel III, installation view, 2020/21, Claudia Sarnthein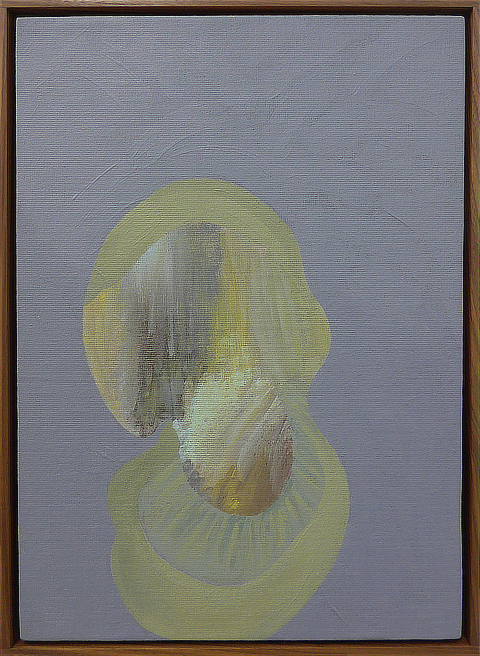 Song, acrylic on linen, 45.0 x 32.0 cm, 2020 / Claudia Sarnthein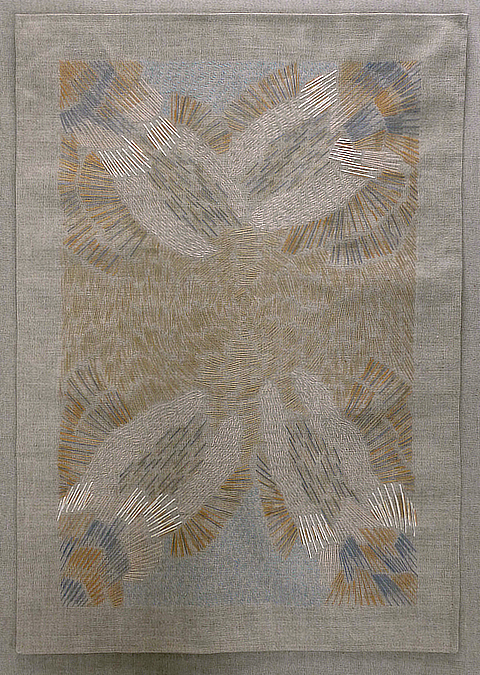 Skins, embroidery on linen, 68.0 x 48.0 cm, 2020 / Claudia Sarnthein