Daria Martin
Daria Martin is Professor of Art and Director of Research at the Ruskin; she is a Fellow of St John's College.
As an artist, her 16mm films aim to create a continuity between disparate media (such as painting and performance), between people and objects, and between internal and social worlds. Human gesture and seductive imagery meet physically mannered artifice to pry loose viewers' learned habits of perception.
Subjects such as robots, an archive of dream diaries and close-up card magic, are explored within isolated spaces such as the wings of a theatre, a military academy, or a scaled up modernist sculpture. These protective yet fragmented settings, full of seams and shadows, stand in for the capacities of the film medium itself, a permeable container that consumes and recycles the world at large.
Some areas of research that inspire her work include cinematic theories of embodied spectatorship, postmodern dance's task-based movements, scientific and artistic investigations of synaesthesia, genres of performance in which props play a significant role, and feminist and gender theory.
Her work has been exhibited extensively across the world. Solo exhibitions include Curve Gallery, Barbican, London (2019); Maureen Paley, London (2016); One of the Things That Makes Me Doubt, ACCA: Australian Centre for Contemporary Art, Melbourne, Australia (2013); Sensorium Tests, Milton Keynes Gallery, Milton Keynes, UK (2012). Recent group exhibitions include The New Human, Moderna Museet Malmö, Sweden, touring to Moderna Museet, Stockholm, Sweden (2016); 14th Istanbul Biennial SALTWATER: A Theory of Thought Forms, Istanbul, Turkey (2015); 10th Shanghai Biennale, Shanghai, China (2014); In the Holocene, MIT List Visual Arts Center, Cambridge, Massachusetts, USA (2012); Dancing Through Life, Centre Pompidou, Paris, France.
Daria Martin was born in 1973 in San Francisco. After studying humanities at Yale, she received her M.F.A from the University of California, Los Angeles, in 2000. She has taught at the Ruskin since 2006, and is available for DPhil supervision. She is also a member of St John's College.

Email daria.martin@rsa.ox.ac.uk
Tonight the World
Anamorphic 16mm film, 13.5 minutes, 2019 - See here for clip.
Tonight the World, first exhibited at The Barbican alongside an original videogame that was later streamed online at Channel 4's Random Acts, draws from a cross-section of dream diaries kept by Martin's grandmother, Susi Stiassni, who fled the imminent Nazi occupation of Czechoslavakia in 1938. Through five chapters, the film links as many dreams sited in Susi's childhood home, Villa Stiassni, a modernist mansion built by Susi's parents, who were Jewish textile manufacturers in the industrial hub of Brno. Conjured in Susi's imagination from her middle-age onwards, in the context of psychoanalysis, the dream diaries as a whole span 40 years and 40,000 dreams, but Martin's selection focuses tightly on dreams about intruders within the Villa, recreating a narrative of threat and escape that parallels Susi's lived experience. Retracing the legacy of her grandmother's emotional history, Martin considers the unconscious underpinnings of intergenerational trauma, loss and resilience.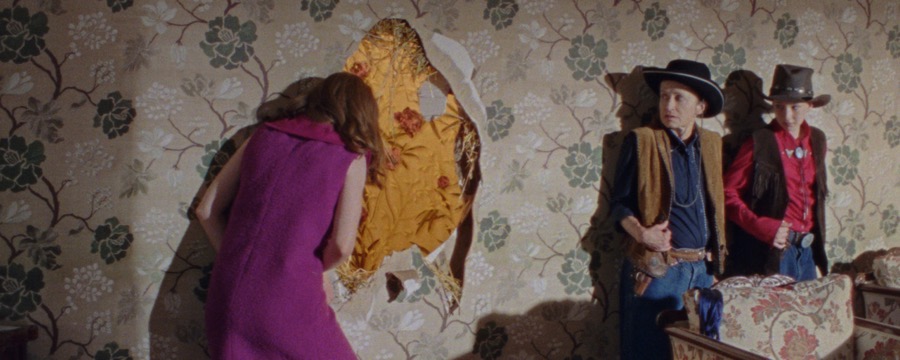 Daria Martin. Tonight the World, Anamorphic 16mm film, 13.5 minutes, 2019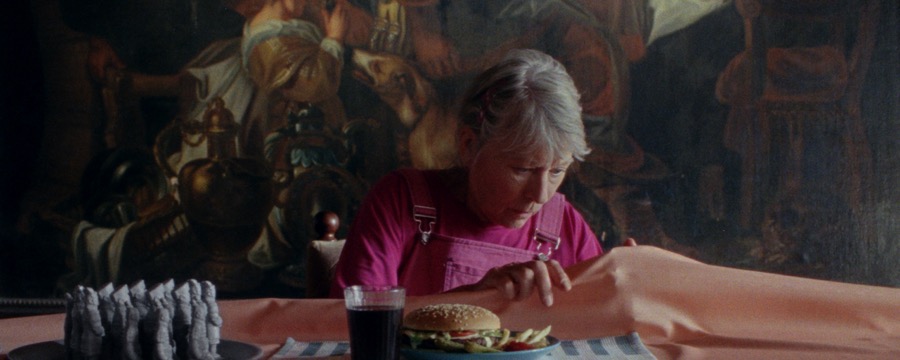 Daria Martin. Tonight the World, Anamorphic 16mm film, 13.5 minutes, 2019
'We're not just talking about disembodiment here. We're talking about the dislocation of the survivor; about the strategies of identification and alienation by which a human psyche eludes mortal threat. These dreams are about being several people at once, in the hope that at least one of you will survive. . . An episodic film about dislocation with four actresses playing the same person: what, one is tempted to ask, could possibly go right? But Martin maintains control – Indeed makes the dreams both comprehensible and gripping, in a way that other people's dreams almost never are…'
–Simon Ings, Financial Times, February 2019.
'Daria Martin teases out fragmentary dreamwork with thoughtful and accomplished layering of history… Martin's work evokes the repressions and transgressions of grappling with one's own and others' psychic truths.'
–Brian Karl, Art Agenda, January 2020.
Soft Materials
16mm film, 10.5 minutes, 2004 - See here for clip.
Soft Materials was shot in the Artificial Intelligence Lab at the University of Zurich where scientists research 'embodied artificial intelligence'. This cutting edge area of AI produces robots which, rather than being programmed from the 'head down' by a computer 'brain', instead learn to function through the experience of their physical bodies. Soft Materials introduces to these robots two performers, one man and one woman, trained in body awareness, acutely sensitive to the nuances of movement, primed to mimic the robots in a play of reciprocity. These performers shed skins of soft fabric, bear their joints like the frank structure of a machine, and, nude, approach the robots as if they were sentient beings. Creating intimate relationships that are in turns tender, funny and eerie, they bend flexible human fantasy around tough materials.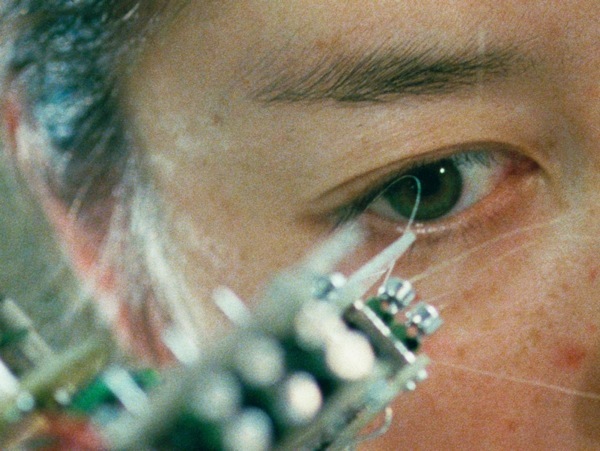 'What Italian philosopher Mario Perniola has called 'the sex appeal of the inorganic' remain central to Martin's vision.'
–Barry Schwabsky, Art Forum, March 2006.
'As for many feminist artists before her, the body itself is the site of the vitality of art.'
–Kirsty Bell, Frieze, March 2006.
'Martin has regularly used her art as an experiential testing ground for her viewers, even when she is not showing scientists exploring the weird fringes of what it means to be human.'
–Martin Herbert, Art Review, April 2012.