Oreet Ashery
Oreet Ashery is Professor of Contemporary Art and the Director of the MFA programme at the Ruskin; she is a fellow, and the Director of Studies in Fine Art at Exeter College.
Oreet Ashery is a transdisciplinary visual artist who navigates established, institutional and grassroot art and social contexts. The work engages with biopolitical fiction, autoethnography, gender materiality and potential communities. Ashery's practice manifests through distinct multiplatform projects that span moving-image, live situations, performance, assemblage and writing. The work turns to costume, new music/sound commissions and activism. Ashery's practice is often collaborative, participatory and questions the modes and conditions of art production.
Ashery was a Turner Bursary recipient in 2020 (replacing the Turner Prize during the pandemic) and won the prestigious Jarman Film Award in 2017 for her web-series Revisiting Genesis, interfacing documentary and fiction and looking at the emergent field of death, dying and the digital, http://revisitinggenesis.net. In this emergent context Ashery published her book How We Die Is How We Live Only More So, Mousse Publishing, 2019, including new writing by T.J Demos, Rizvana Bradley, Mason Leaver-Yap, Imani Robinson, George Vasey and Bárbara Rodríguez Muñoz. Expanding this field of enquiry, Ashery's film Dying Under Your Eyes, 2019, captures moments of intimate surveillance and assemble a collage of daily experiences and rituals, both real and imaginary, leading up to the sudden death of her father in 2018. The film was commissioned by Wellcome Collection as part of the long duration exhibition Misbehaving Bodies: Jo Spence & Oreet Ashery, May 2019- January 2020.
In 2017 Ashery exhibited the sonic performance Passing Through Metal. For the duration of approximately two hours per concert, audiences are invited to pass through the sound of metallic-rain produced by forty local knitters who use eighty metal knitting needles, each attached to a pick-up microphone. The metallic sounds are interrupted by heavy sonic wall of growling vocal and instrumental doom from a local death metal band. The work was shown in LPS; Malmo, Donaufestival; Krems and Kettle's Yard; Cambridge.
In 2013 Ashery created Party for Freedom, an Artangel commission, combining twenty-five live performances in domestic settings, offices and pubs, a ten-track Audio Visual album, large scale live concerts with originally commissioned music and activist public programmes People vs Freedom including Silvia Federici's talk Land, Animals and Women. The project focused on freedom rhetoric by the far right as it collapses into the aesthetics of historical lefty artistic liberation movements.
For full list of solo exhibitions, solo performances, writing, commissions and talks please see http://oreetashery.net/cv/
Oreet Ashery is available for DPhil Supervision particularly in the areas of biopolitics and fiction.
https://www.moussepublishing.com/?product=/oreet-ashery-how-we-die-is-how-we-live-only-more-so/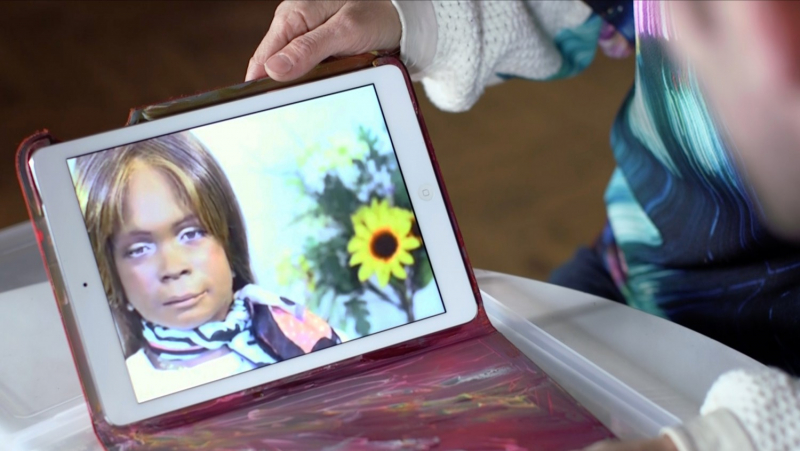 Revisiting Genesis, web series, 2017 / Oreet Ashery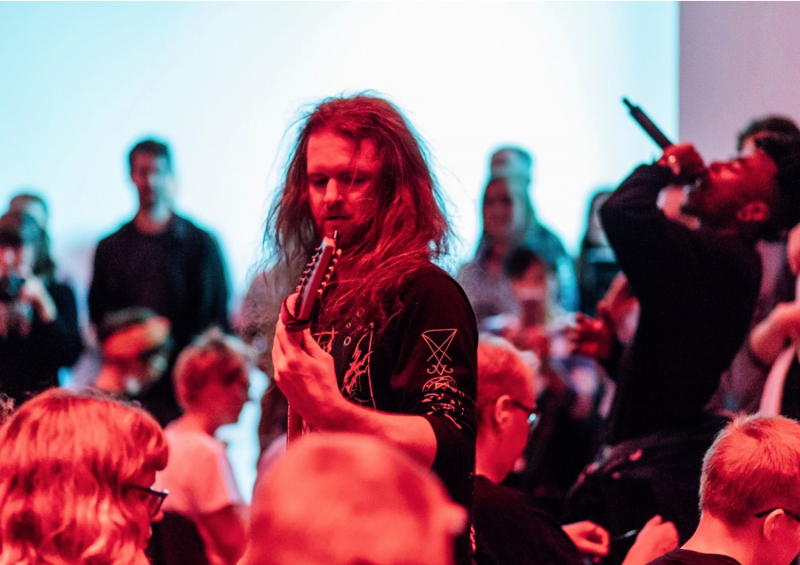 Passing through Metal Sonic performance Kettle's Yard Cambridge 2018 / Oreet Ashery