Sigrid Holmwood
Reconstructing the work of a painter of peasant life, I use handmade historical paints dating from the sixteenth century with period quill brushes and studio-ware. The specific pigments, binding media, and handling properties emphasise colour and luminousity, drawing links between the 16th century genre-painting and 19th century impressionism.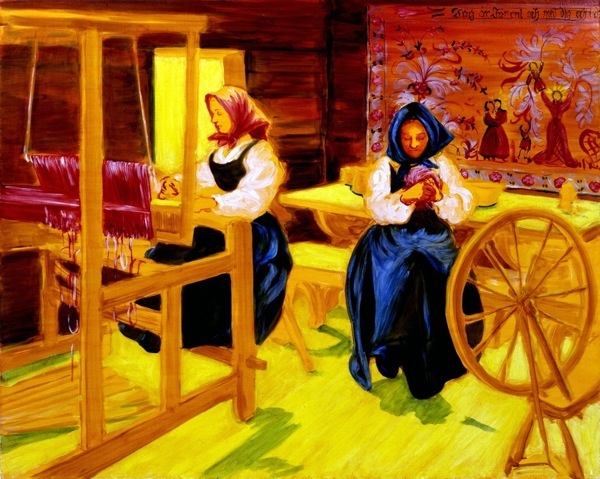 The peasants with whom I associate are historical re-enactors who have, in turn, hand-stitched their clothing and reconstructed working practices, striving for the greatest authenticity possible; museum workers; Californian hippies and Chinese farmers. The identification with, and re-enactment of, the subject is as much a part of the project as the finished work. By using this persona of a 'peasant‐painter' and making all my paints and materials from scratch, I focus on the way that materials and the performative interaction with them can generate meaning.
I have recently been working in China with Vitamin Creative Space, which partly involved spending a couple of weeks in a village in the Yulong mountains in Yunnan learning how to make paper from Dongba Shaman Priests. The result of this research will be exhibited next year at Annely Juda Fine Art, London. Past exhibitions include Newspeak: British Art Now in the Saatchi Collecton, touring St Petersburg, London and Adelaide; John Moores Paintng Prize 2010, Liverpool; and The Artist's Studio, Compton Verney, Warwickshire.
http://www.sigridholmwood.co.uk
twitter: @sigridholmwood