MFA Programme
The Ruskin MFA degree is an intensive one-year (three terms) studio-based programme in the practice of contemporary art. You will be part of a small group of around eighteen students, on a course designed to direct and develop your artistic practice and theoretical knowledge.
MFA Installation. / Alistair Debling
MFA Performance. / Yan Can
'Camouflage'. Oil on dyed canvas. 140 x 110 cm. 2019 / Hannah Ferreira
The year was a really beautiful experience in many ways. It felt like many years of intellectual, personal, and artistic growth were packed into nine months during the Ruskin MFA, which I'm still learning from.
—MFA Graduate 2020/21

The MFA provides an outstanding artistic environment for developing your practice in the context of a postgraduate arts research culture. The tutorial system is at the heart of teaching on the MFA and you will be supported by tutors of the highest calibre, with contact time and student-to-staff ratio that are exceptional in UK art schools. The light and spacious MFA studios are located on the first floor of Ruskin's Bullingdon Road building, with easy access to workshops and media facilities downstairs.
Open Day

We do not hold a physical Open Day for the MFA, but are offering two online information sessions (Teams) on 1st and 8th December, 2pm (UK time). If you are interested in attending, please sign up here for ONE of the sessions:
The session on the 8th is already quite full, so if you can sign up for the 1st we would be grateful.
(Please find our Privacy Policy for this signup under 'Applying to Study for an MFA' in the sidebar)
Overview
The programme encompasses a diversity of disciplines including painting, sculpture, printmaking, photography, writing, installation, video, sound, performance and other expanded forms in contemporary art. It aims to encourage experimentation and nurture a critical focus for the work.
The MFA is located on one floor comprising individual studios and shared areas which together create a responsive space for self-directed peer learning, supported by permanent and visiting staff. It is an exceptional artistic environment, distinct from larger art schools in the UK.
Your artistic interests and those of your peers will be embedded in tutorials, seminars, and presentations, determining the direction of your creative development. You will engage with what it means to work as an artist today, considering how an artist's work and ideas register in different social, artistic, historical, and theoretical contexts. You will be guided and supported by tutors in regular one-to-one tutorials and weekly seminars, focused on your making, key concerns, ideas, and their interdependent development.
Studio-based learning is facilitated through regular group reflection, which is characterised by collective participation in generous and robust discussion. A programme of dedicated masterclasses and skills workshops is designed specifically for the MFA. Purpose-built facilities, such as the media lab and editing suites, printmaking workshop, casting, metal, and wood workshops, are on site in the Bullingdon Road building. (see https://www.rsa.ox.ac.uk/study/resources)
Ruskin students benefit from being part of a large University, with access to lectures and seminars in other departments and colleges, and to specialist libraries and collections. The city's varied cultural organisations include the Ashmolean Museum, Pitt Rivers Museum, and Modern Art Oxford, and students can freely access the Botanical Gardens and many other green spaces in and around Oxford.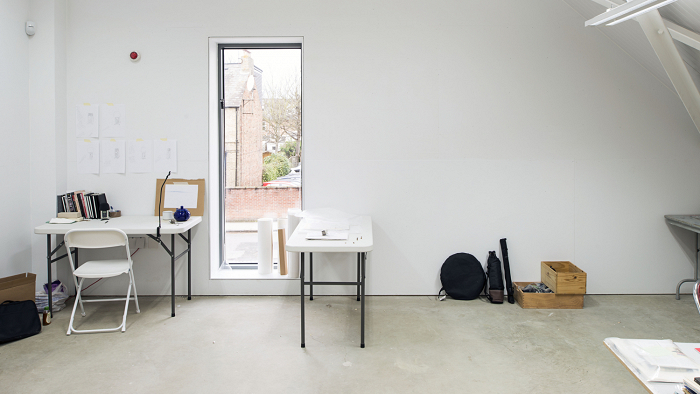 MFA Studio Space.
Course Structure
The MFA is built around three compact eight-week terms, with students expected to continue working through the winter and spring breaks. A typical week on the MFA during the first two terms (Michaelmas and Hilary) includes a half day research or practice seminar, an individual tutorial, and a skills workshop or masterclass.
The rest of your time on the course is dedicated to independent study: artistic practice and research in the studio, using Ruskin's workshops and facilities and utilising the libraries. At the end of second term (Hilary), you will submit an Extended Text in support of the studio project. The last term (Trinity) is focused on the preparation of artwork for the final exhibition and a digital portfolio of studio practice for examination. MFA students and staff work together to curate and install the degree show in the MFA space at Bullingdon Road, which opens at the end of term.

Studying on the MFA
The MFA course exceeded my expectations in every way possible. The teaching was informative – everything was explained in a conscious and inclusive way. No question or provocation felt embarrassing to ask and all tutors who I had the pleasure of being with made me feel that my misunderstandings were avenues of learning and growth.
— MFA Graduate 2021/22

Self-directed study underpins the MFA. The curriculum is designed to support your independent research emerging from making artistic work. Teaching on the MFA includes:
- Regular tutorials with an allocated studio practice tutor who oversees your artistic development over the year.
- Two programmes of weekly seminars held throughout Michaelmas and Hilary Terms. The first seminar is dedicated to students presenting their research for group discussion in the context of contemporary art. The second term's seminar focuses on student presentations of their studio work for group critique with peers and tutors.
- Individual and group tutorials with an allocated text tutor, to supervise the development of your writing towards submission of an extended text.
- Hour-long elective tutorials throughout the year.
- Studio walkthrough crits with peers, tutors, and invited curators, held over the year.
- Regular access to technical training and one-to-one support in digital photography, sound and video editing, welding, metalwork, wood, printmaking, and other media, alongside a programme of supplementary skills workshops for MFA students.
- Masterclasses led by invited artists, curators, and writers in areas such as exhibition making, writing, sound, performance, and research methodologies.
- A final group exhibition in the MFA studios, developed and curated collectively by the cohort with support from tutors.
There are no taught history and theory modules on the course.

Assessment
The MFA has three main modes of assessment: the Final Exhibition, a digital Portfolio of Studio Practice, and an Extended Text. The three submissions are viewed holistically and assessed by the appointed examination panel at the end of the course.
Final Exhibition
A presentation of fully realised artwork, or body of works, made during the MFA programme. This requires students to develop, create and present a coherent, thoughtful installation of work within a group exhibition.
Portfolio of Studio Practice
A digital portfolio of studio practice documented by photographic or other means. Throughout the programme, students are encouraged to construct approaches to documentation appropriate to their practice and research.
Extended Text
A written text of 4-6,000 words in support of the studio project. Students are encouraged to take an experimental approach to writing as they develop an account of the methodology used in the final project, an exposition of its theoretical framework, or an essay on a topic of direct relevance to their practice.

STAFF 2022-23
Oreet Ashery, Course Director
Eve Ess, Course Leader
MFA Studio Practice and Extended Text Tutors
Anna Barham, Harold Offeh, Jennifer Lauren Martin, Jade Montserrat, Jaimini Patel, Giulia Smith, Stephen Wilson
Visiting Artists and Curators
Adham Faramawy, Onyeka Igwe, Christopher Kirubi, Philip Lai, Ghislaine Leung, Chooc Ly Tan, George Vasey, Mason Leaver Yap

Graduate Destinations
Many alumni have gone on to doctoral research and careers in the arts as practising artists, teachers, writers, curators, and gallery professionals. Others have pursued careers in education, architecture, and the film industry. We encourage those with a commitment to contemporary art practice, who come from diverse backgrounds and experiences to apply.
last edited: September 21st 2023