Resources at the Ruskin
The School is located across two sites, 74 High Street in the historic city centre and at 128 Bullingdon Road in vibrant East Oxford.
The Site at 128 Bullingdon Road / Spratly Studios
Detail of the site at 75 High Street
Access Guide:
Information for students with limited mobility can be found at the Disability Advisory Service's Access Guide.
74 High Street.
Situated in the centre of the city, this historic listed building stands next door to the University's Examination Schools, on the corner of Merton Street.
This site houses first-year student studios and further studio spaces for undergraduate and post-graduates, the Drawing Studio (used for Anatomy, short courses and student studio space), the Library and Theory Studio (graduate reading room), the main adminstration offices, the Painting (tutorial) Office, and the Old Masters' Studio (used for seminars, meetings, and presentations).
Find information about the Ruskin Library here: https://www.rsa.ox.ac.uk/about/library
128 Bullingdon Road
The building sits near the north end of Bullingdon Road, close to the Cowley Road. The High Street and Bullingdon Road sites are about a ten-minute walk apart. The site contains the project space, media lab and editing suites, printmaking and etching workshop, the sculpture department with casting, metal and wood workshops, as well as under-graduate and post-graduate studio spaces. The building was launched in October 2015.
Project Space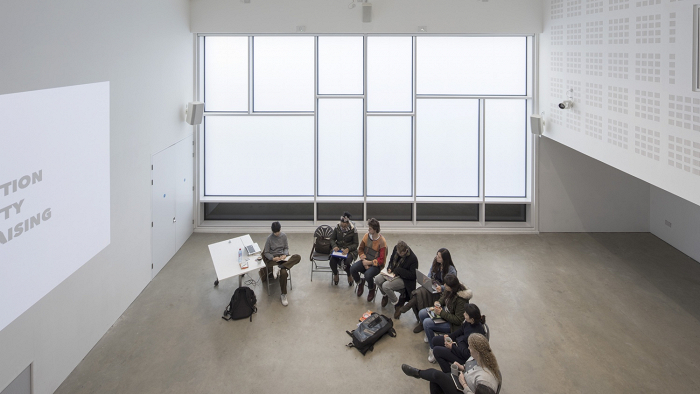 Workshop in the Project Space at Bullingdon Road
The Project Space is used for student exhibitions, performances, workshops, visiting artists talks and as a photography studio. The main window uses smart glass panels to provide privacy when required, or act as a large back screen projection screen, allowing the front of the building to serve as a large screen.
Print Studio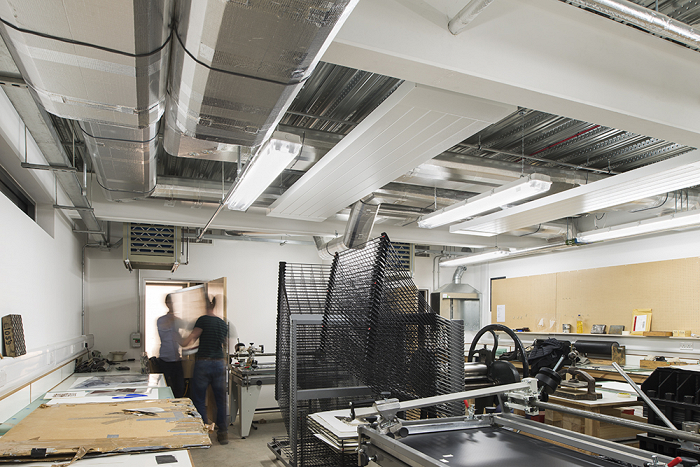 Print Studios
The printmaking studio provides facilities for students to explore and develop their fine art practice through both traditional and contemporary printmaking techniques. The studio has provision for intaglio, relief, and screen-printing. Housing a 66cm x 121cm [26" x 48"] Rochat etching press, we offer autographic intaglio using traditional hard & soft grounds, drypoint, aquatint & chine collé. Zinc is etched in nitric. For screen-printing the studio is equipped with 2 new 30" x 40" Natgraph Hand Tables, 2 drying racks, a back lit washout booth, Natgraph UV exposure unit, screen drying room, and a 1.5m lightbox for working on artwork and film positives. The studio uses the TW Graphics water-based screen-printing ink system. The recent addition of a Beevers hydraulic Press with a 22" x 16" platen, facilitates the production of lithographs, etching, relief, collagraph, embossings, and die cut work.
Media Lab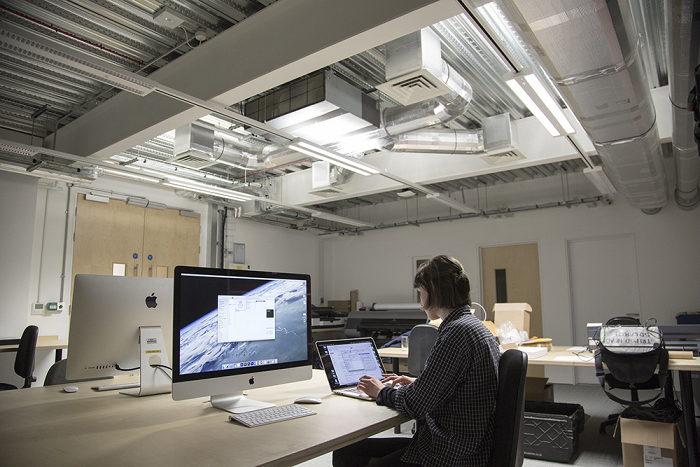 Media Lab
The Ruskin Media Lab is designed to be an open exploratory space: users can work with image, video and physical production using the inventory of equipment, much of which is sourced from the MIT FAB Lab inventory. The main media lab area has a large format printer, laser cutter, vinyl cutter, milling machine, and 3d printer. There is an electronics / soldering area where students undertake physical computing projects using arduino, raspberry pi, and other sensors and electronics.
The Media Lab studio is mainly Mac-based with a number of iMacs and iMac pros connected to video grade central storage. Each student has their own home account, which is available at whatever workstation they are using. Software includes Adobe Suite, Max-MSP, Final-Cut Pro, Ableton Live, and Logic Pro. Other software may be acquired and used when necessary to a project. A range of equipment can be borrowed, including Canon 5D cameras, a Black Magic Cameras, microphones and audio hard disk recorders, as well as portable projectors. Digital files can be produced in the Media Lab and sent to the workshop wood CNC machine and metal plasma CNC machine.
Edit Suites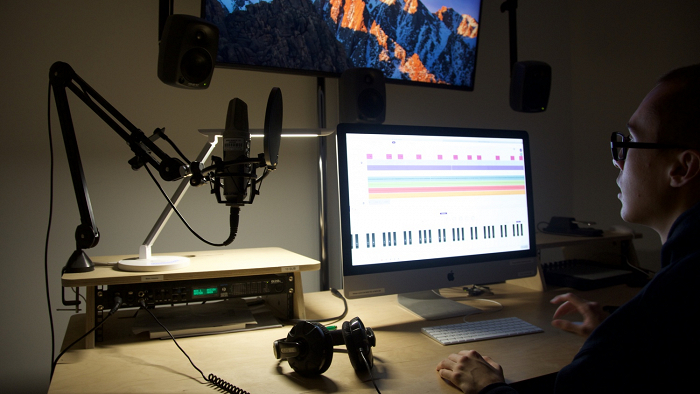 Audio edit suite
The Media Lab also includes three edit suites. One is contained within the media lab room and acts as a general edit suite as well as an ingest station for material shot with the black magic camera. One is an acoustically treated sound room with a 7.1 Genelec surround sound system, audio recording facility, midi keyboards and large screen. One is a control room for the Project Space below, where audio and video can be controlled, as well as the main large screen projector and the two side projectors. The side projectors are mapped to the Project Space front 'smart screen window' which can act a giant back screen projector providing a video / image interface with the outside front of the building. The project space also has a 7.1 surround sound speaker system so work produced in the audio edit suite can be easily presented in the Project Space.
Casting Room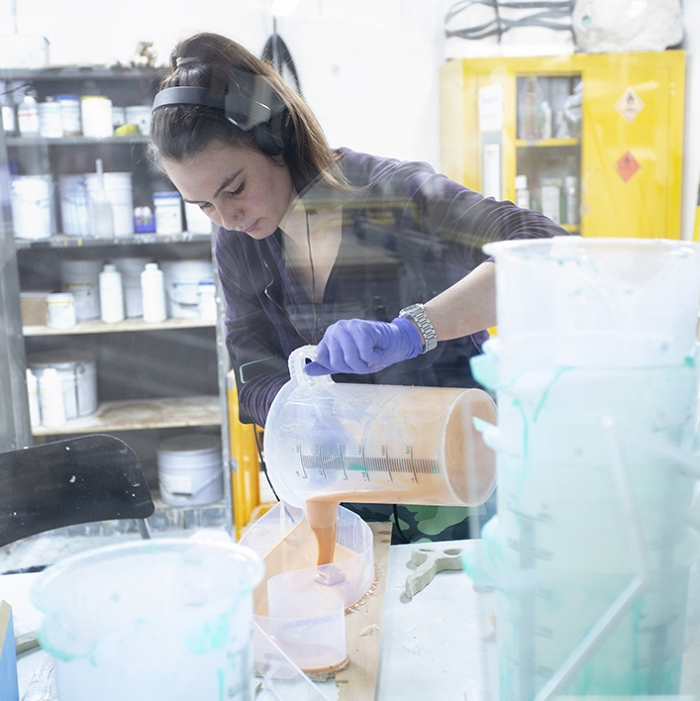 Pouring a mold in the casting room
The Casting Room is a bespoke wet and dry facility for mould-making and casting a variety of materials. These include rigid mould-making in plaster and fibreglass as well as flexible mould-making in silicones and vinyl mould. Life-casting is also possible. It offers offer a range of casting mediums such as polyurethane and polyester resins, glass-reinforced plastics (GRP), silicone and polyurethane rubber and foams, cement fondu, Jesmonite and plaster. There is a vacuum forming machine available, as well as filtering down-draught tables for both dust and resins.
Metal and Wood Workshops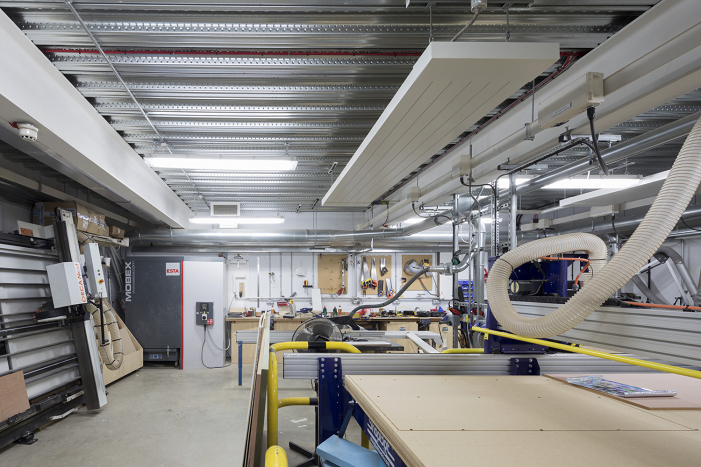 Workshop showing the CNC machine
The metal shop is set up for fabricating and manipulating metal. It offers arc-welding, MIG and TIG welding in mild, stainless steel in addition to aluminium. The welding area is equipped with both overhead extraction and a filtered down draught table. Metal can be cut in a number of ways: cold cut saw, angle grinder, guillotine, band saw, hand-held plasma cutter or our state-of-the-art CNC plasma-cutting table. Shaping the metal can be done with the fly press, slip roller, finger break and an induction forge. The wood workshop is equipped with table saw, sliding miter chop saw, pillar drill, bandsaw, disk and belt sanders and a 3.5 meter wall.
last edited: March 21st 2023