MFA Programme
The Ruskin MFA degree is an intensive one-year (3 terms) studio-based programme in the practice of contemporary art. You will be part of a small cohort of around 14-18 students, on a course designed to direct and develop your artistic practice and theoretical knowledge in a supportive environment.
MFA Installation. / Alistair Debling
MFA Performance. / Yan Can
'Camouflage'. Oil on dyed canvas. 140 x 110 cm. 2019 / Hannah Ferreira
---
ABOUT THE MFA
The programme encompasses a diversity of disciplines including painting, sculpture, printmaking, photography, art writing, installation, video, sound, performance and other expanded and experimental forms in contemporary art. It aims to encourage experimentation while supporting the development of a critical focus for the work.
The MFA is located on one floor with a series of individual studio spaces, alongside shared and open spaces, all of which contribute to an intimate environment of self-directed peer learning, supported by permanent and visiting staff of the highest calibre. It is an exceptional artistic environment, distinct from larger art schools in the UK.
The course encompasses regular one-to-one tutorials and weekly studio seminars, focused on your art-making, your key concerns and ideas, and interdependent development. A programme of dedicated masterclasses and skill-based workshops, designed specifically for the MFA, is available alongside a weekly school-wide high profile and diverse Visiting Speakers Program.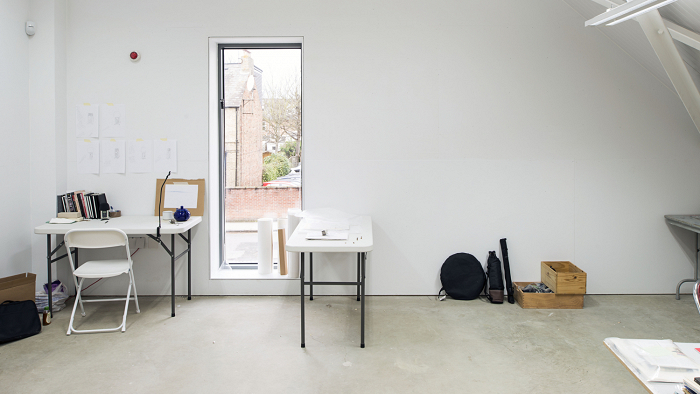 MFA Studio Space.
Our studio-based learning programme is facilitated through a regular seminar series characterised by a collective dynamic of mutual participation in generous and robust discussion; engaging with what it means to work as an artist today and considering how an artist's work and ideas are understood in and across different social, artistic and intellectual contexts. As part of this holistic approach to practice and theory, dissertation tutorials with specifically allocated tutors take place on a regular basis in the first two terms. You are encouraged to understand your work contextually and to discuss it in relation to contemporary, theoretical and historical discourse. Your personal artistic interests, and those of the cohort as a whole, are embedded into tutorials, seminars and presentations, determining the direction of your creative development, guided by the Ruskin faculty.
1. The rhythm for an average week on the MFA during the first two terms (Michaelmas and Hilary) will include an all-cohort seminar for a half a day, an all-school Visiting Speaker talk for half a day, a workshop/reading group for half a day and a tutorial (elective/dissertation/personal tutor). The rest of the time will be dedicated to independent study; developing your research and practice in your studio, at the Ruskin workshops, the University's amenities such as libraries or field work. The last term will be focused on the preparation of your practice for the degree show and final submission of art works for exam. The cohort is expected to work together during Trinity Term to curate the show. The ruskin MFA degree show benefits from its proximity to the adjacent BFA degree show and attracts local and national visitors.
Between the two terms it is expected that you continue to work independently.
You will also be able to self-initiate connections and collaborations and have access to Humanities and Sciences lectures and seminars in affiliated departments and colleges across a world-leading University. The University's specialised libraries are open to Ruskin students, as are activities generated by the Colleges. Oxford offers a wide range of cultural engagements, including the Ashmolean Museum, the Pitt Rivers Museum as well as Modern Art Oxford.
Oxford students can freely access the Botanical Gardens as well as other green spaces in and around the city.
Varied teaching situations will be employed to identify and provide for individual student's needs, these include:
A studio programme of individual tutorials over each of the three terms, with an allocated practice tutor who will oversee your artistic development. Additionally tutorials with your personal dissertation tutor, to support your writing and academic input. An additional provision of elective tutorials will also be made, enabling you to benefit from the research strengths of other permanent staff as well as regular visiting staff across the school, complemented by input from a weekly program of visiting speakers who are also available for individual tutorials, and six guest artists to the MFA.
Two programmes of weekly group seminars throughout the first and second terms; one dedicated to the presentation of your exploration and discussion of contemporary art and its associated history and theories in the first term, and one focused on the presentation and group analysis of your own studio work in the second term. There are no taught modules on the programme.
Complementary support through access to technical training for new skills and techniques in the areas of welding, metalwork, wood, printmaking and media, delivered by the Ruskin's regular technical staff, alongside supplementary skills workshops.
Masterclasses in the areas such as writing, sound, performance and research methodologies, amongst others.
The MFA will have three main modes of assessment:
1. an exhibition or presentation of a fully realised artwork, or body of artworks, made by you during the MFA programme. This will require you to develop, create and present a coherent, thoughtful exhibition, or other presentation of artwork as appropriate, including live performances.
2. a written text of 4-6,000 words. This could be creative writing, art writing or academic piece of written work that will require you to reflect upon your studio practice in the context of art-historical and current theoretical debates.
3. a portfolio of documentation of studio work. Throughout the programme, you will be required to make a thorough, scholarly documentation of your work, to be submitted at the conclusion of the programme. This supports the assessment of the final exhibition or presentation in demonstrating the provenance of the strategies, methods and ideas manifest in the processes that lead to the final exhibits of works.
MFA tutors 2022-2023
Oreet Ashery (Course Director), Eve Ess (Course Leader), Harold Offeh, Anna Barham, Adham Faramawy, Jade Montserrat, Jaimini Patel, Giulia Smith, Jennifer Martin, Christopher Kirubi
Graduate destinations
Many alumni from the Ruskin have pursued careers in the fine arts as practising artists, teachers, writers, curators and gallery professionals in both public and private galleries. Others have gone on to pursue careers in a variety of areas such as education, finance, architecture and the film industry. We encourage students with a commitment to contemporary art practice, who come from diverse backgrounds and experiences to apply.
last edited: December 13th 2022