Visiting Speakers Programme 2021-23
This Visiting Speakers Series are associated with events surrounding our celebrations for Ruskin's 150th anniversary
This series of curated events is intended to open conversation, ignite debate and steer the intellectual and artistic direction of the School across the next two years. Intrinsic to this, the series is intended to reflect and to help see through Ruskin's Anti-racist Commitments and Related Action Plan.
What does each Visiting Speaker session involve?

A public talk in the afternoon, which could involve a talk (or even a series of talks) based on current work and research interests, roundtable discussion, performance lecture, etc.
Where and when are the Visiting Speaker sessions?

All sessions run on Thursdays 15:30 - 17:00 unless otherwise arranged by the senior staff organiser.
All Biotic Resistance webinar series will run on Thursdays, weeks 5, 6, and 7 from 16:00 - 18:00. For further information please see here, and to register for these seminars, see here.
The sessions will run on Zoom, unless organisers otherwise arrange for an in-person event.
N.B. If you are external to the Ruskin and interested in attending a talk, please send an email to Amira Hasoon (amira.hasoon@rsa.ox.ac.uk). Please say who you are, what talk(s) you are interested in, and briefly note the reason(s) you are interested in attending.
**Please see full information below for Visiting Speakers Series throughout Michaelmas Term 2021.**
Jade Montserrat: New Kinds of Subjects
Date: Thursday, 14 October
Time: 15.30-17.00
Place: Zoom On-Line Platform
Speaking of an emergent black subjectivity in post-colonial Caribbean cinema, Stuart Hall in his essay Cultural Identity and Diaspora poses the question "From where does he/she speak?" This question is central to my performance and live art making and performances to camera, out of which works on paper, or 'performance documents' as I have named them, emerge. These are tools which evidence my process and continued intention and that the artwork as a whole entity proposes: to unearth my heritage and affirm my position as an artist, cast adrift from my African Diaspora roots. I will speak about this approach within my art work and praxis and aspirations for their development.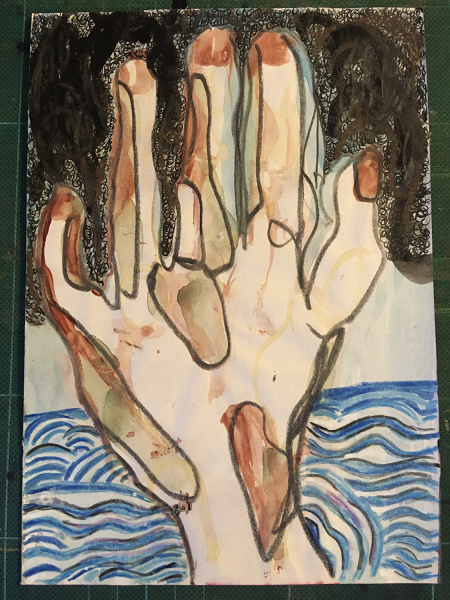 Jade Montserrat, Sketchbook study 2021
Jade Montserrat is an artist based in Whitby, England. She was the recipient of the Stuart Hall Foundation Scholarship supporting her PhD (via MPhil) at IBAR, UCLan, and the development of her work from her black diasporic perspective in the North of England. Jade works through performance, drawing, painting, film, installation, sculpture, print and text.
Chooc Ly Tan: Disobey to the Dance of Time
Date: Thursday, 21 October 2021
Time: 15.30-17.00
Place: Zoom On-Line Platform
I will give an overview of my multidimensional practice, from my sculpture and multi-media installation and performance projects through to my current filmmaking and DJing outputs. I will also talk about the importance I give to reaching out to an audience beyond the confines of the art world, offline and online, through multiple discursive and sensory experiences, including nocturnal gatherings on the dance floor.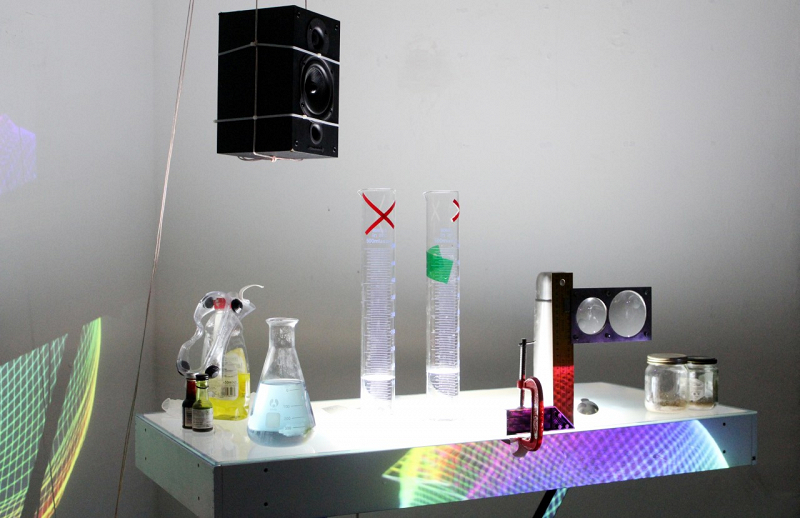 Chooc Ly Tan, 2021
Chooc Ly Tan is a multi-disciplinary artist, DJ and voyager who works across - and is not limited to - moving image, DJ sets, radio podcasts and club nights. Her practice sets-out to create new visions of reality by subverting or repurposing systems and/or tools we use to understand the world around us – such as concepts and methodologies from physics, politics and music.
Her recent film On The Offbeat (2021) explores those disruptive and productive moments of suspension that surround syncopation, tracing the significance of the offbeat through Vogue Fem, diasporic rhythms, critical theory, and insect behaviour.
Chooc Ly's moving image practice is complemented by and often merges with her DJing and music work. She also runs the platform Décalé that puts on evenings of experimental, collapsing and flawless sounds/visuals, in collaboration with cultural producer Anne Duffau. Together they aim to showcase visual artists, music producers and DJs who are disadvantage by societal norms. Décalé means: 'Being displaced in space and time'. She recently joined the team of associate editors for Ying Xiang 映象 journal, a non-profit research project reflecting on the influences of Asia on contemporary cultures. Her work has recently been shown at Kunsthall Oslo, in Norway; CCA/EdUHK in Hong Kong; and Chale Wote Festival in Accra. As a DJ, Chooc Ly performed at Swallow, a queer nightclub in LA; Regenerative Feedback at WORM, Rotterdam; The Living Art Museum, in Reykjavik, Iceland; Queering Now, London; and LAVA LAKE 24H RAVE (livestream).
Eleen Deprez: Beyond Curating as Care – The Ethical Responsibility of the Curator
Date: Thursday, 28 October
Time: 13.00-14.30 *Note change of time*
Place: Zoom On-Line Platform
Curating is often explained through its etymological root of "care". This feeds into an understanding of curatorial work as "caring" for artefacts and artworks or – more broadly – looking after or supporting artists. In order to ground an ethics of curating and establish a practice of moral criticism we need to cast aside this understanding; it forces the curator into a position of humility and subservience. I argue that understanding curating-as-care ultimately neglects the ethical responsibilities of the curator.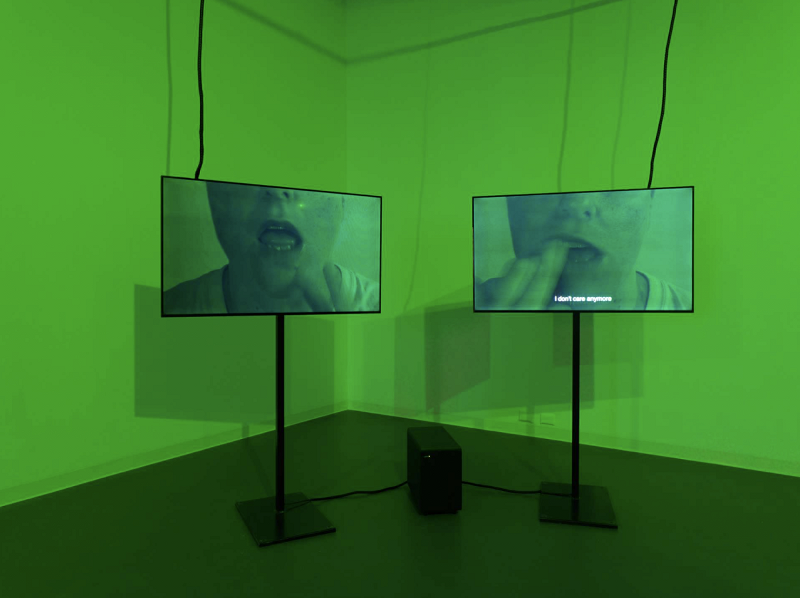 Sidney Mcmahon, Of Sorrow and Release (2021) Installation shot from exhibition at ACE open, Tardanya/Adelaide Australia (14 May – 4 July 2021)
Dr. Eleen M Deprez is a Visiting Tutor in History and Theory of Art on the undergraduate programme at the Ruskin. She is an analytical philosopher of art and curator.
Harold Offeh: Radical Joy: Collective Pleasure and Play as Acts of Resistance
Date: Thursday, 4 November 2021
Time: 15.30-17.00
Place: Zoom On-Line Platform
Through an exploration of three of Offeh's projects released in 2021 he will explore historical references and case studies, where collective actions and gestures have emerged in resistance and opposition to the context of trauma, violence and repression. Offeh will refer to his recent video Down at the Twilight Zone, documenting a 12 hour live event mapping 40 years of queer experiences of the city of Toronto's night. He'll explore the development of his commission Joy Inside Our Tears for the Wellcome Collection's exhibition Joy and Tranquility. Drawing on a range of sources from medieval dancing plagues to AIDS/HIV dance marathons to explore the relationship between social dancing, duration and histories of trauma. Lastly, Offeh with touch on his recent public sculpture Hail the New Prophets, commissioned for Bold Tendencies, Acadia exhibition. Offeh, draws on the tradition of artists' designed playgrounds to create a scale model of Afrofuturist Jazz musician Sun Ra's mothership as a playground slide that broadcasts predictions and hopes for the future.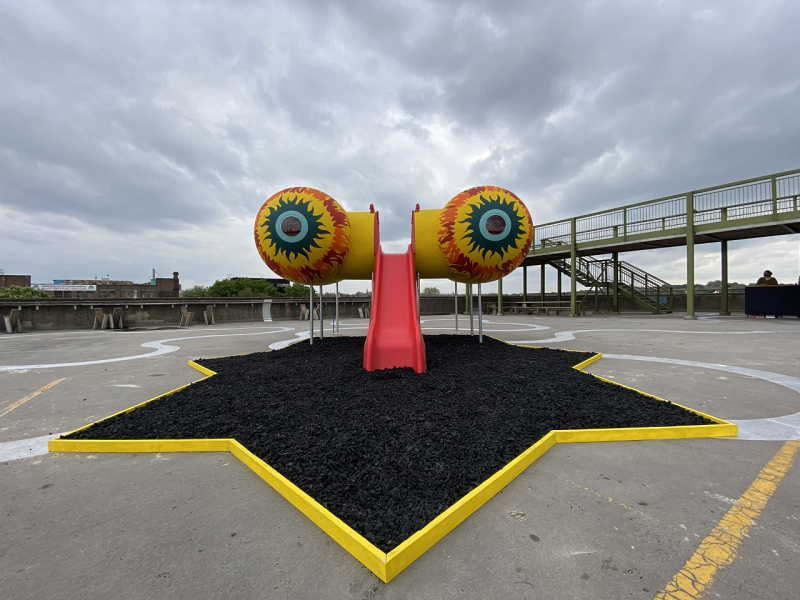 Harold Offeh. Hail the New Prophets, 2021
Harold Offeh is an artist working across performance, video, photography, learning and social arts practice. Offeh is interested in the space created by the inhabiting or embodying of histories. He employs humour as a means to confront the viewer with historical narratives and contemporary culture, grappling with issues such as colonialism, the dynamics of work, labour and gender, and ideals of masculine power.
Offeh lives and works in Cambridge and London. Offeh has exhibited widely including at Tate Britain and Tate Modern, South London Gallery, Turf Projects, Kettle's Yard, Wysing Art Centre, Studio Museum Harlem, MAC VAL, France, Kunsthal Charlottenborg, Denmark, Museum of African Diaspora, San Francisco, and Art Tower Mito. Offeh is a Tutor at the Royal College of Art and the Ruskin School of Art, Oxford University. In 2019, he was a recipient of the Paul Hamlyn Foundation Award for Artists, the largest award of its kind in the UK.
Recent commissions include a new video work exploring the redemptive power of joy through social dance for On Happiness at the Wellcome Collection, and a children's play area for Bluecoat Contemporary Art Centre, Liverpool. Offeh exhibited as part of Untitled, Art on the Conditions of Our Time, a major exhibition of British artists of African descent at Kettle's Yard, and Reading the Realness at Leeds Art Gallery. Offeh has just co-curate a group exhibition in Birmingham with Eastside Projects, LOOP, exploring the relationship between performance, the body, time and technology.
Biotic Resistance: Eco-Caribbean Visions in Art and Exhibition Practice
*Note all Biotic Resistance events will be held on week 5, 6, and 7 from 16:00 - 18:00*
For more information visit HERE. To register for the webinars within the series visit HERE.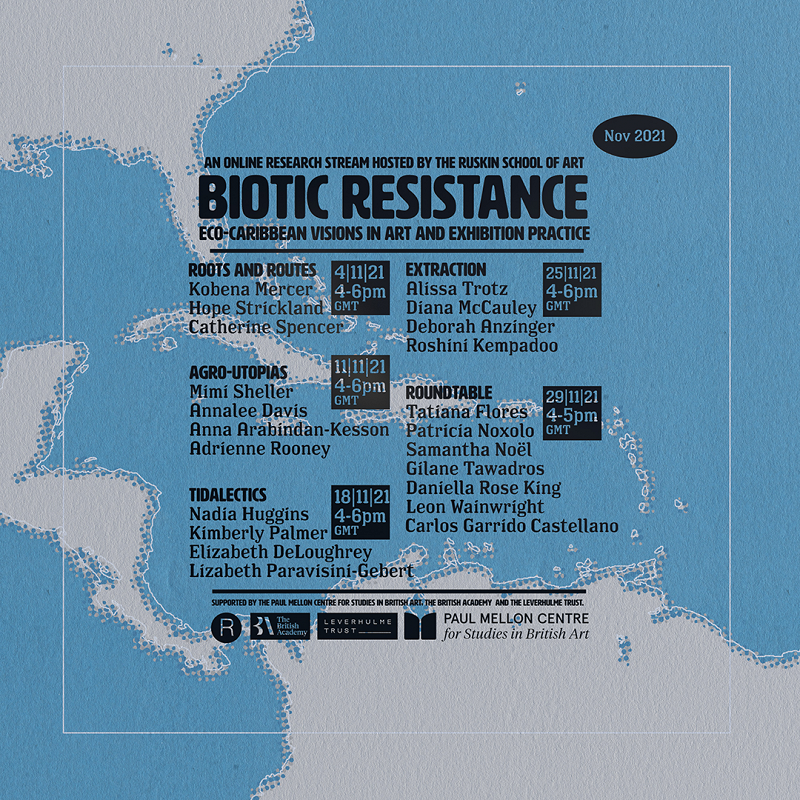 Biotic Resistance, Webinar Series
Biotic Resistance: Eco-Caribbean Visions in Art and Exhibition Practice is an online research series devoted to exploring the intersection of art, literature, and environment in the transnational Caribbean. The event is jointly organised by Dr Giulia Smith and Dr Kate Keohane (Ruskin School of Art, University of Oxford). A central objective is to highlight the role that artists and thinkers with Caribbean heritage have played in shaping a planetary consciousness that is uniquely suited to thinking through the ecological emergencies of the present.
Importantly, the series is not bound by chronological focus, but supports research that draws transhistorical connections between the colonial era, the period of independence and the contemporary. The climatic phenomena that currently make the Caribbean one of the most ecologically vulnerable regions in the world are inextricable from the history of this region as a site of colonial extraction and exploitation.
Starting in the fifteenth century, the European colonisation of the Caribbean initiated one of the most dramatic shifts in the ecological organisation of the planet, so much so that some have taken the conquest of the Americas to mark the beginning of the Anthropocene. Never before had the world witnessed such a monumental operation of transoceanic transplantation: soils, seeds, animals and humans were shipped to the Caribbean from every corner of the world; while the region's native resources were fed into an exponentially growing trade in tropical goods. Pivoting on the economy of the plantation, this violently exploitative traffic in both animate and inanimate commodities underpins the development of the phenomenon art historians call 'modernity' ('plantationocene' for Donna Haraway and others) and epitomises the centrality of the Caribbean in the formation of a globally connected market with irreversible anthropogenic effects on the planet.
Today, as the Caribbean remains at risk of devastating forms of neo-colonial resource extraction, growing numbers of artists and scholars are turning to the politics of ecology to advocate for the region's effective decolonisation as well as for more sustainable futures for the world at large. This vindication of the Caribbean as a frontline of planetary survival has prompted a reassessment of the work of historic authors and artists (from Sylvia Wynter to Édouard Glissant, from Aubrey Williams to Wifredo Lam and Everald Brown) who placed the natural world at the forefront of the struggle against colonialism. 'Biotic Resistance: Eco-Caribbean Visions in Art and Exhibition Practice' takes stock of these invaluable theoretical and activist engagements, and reflects upon their implications through a transdisciplinary approach to art history.
Biotic Resistance: Agro-Uptopias
Date: Thursday, 11 November 2021
Time: 16.00-18.00
Place: Zoom On-Line Platform - REGISTER HERE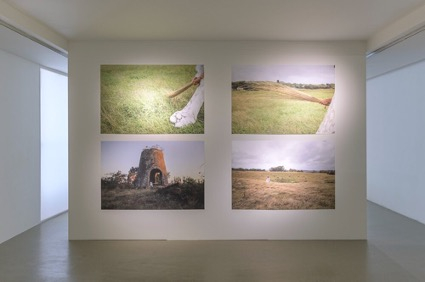 Annalee Davis, Sweeping the Fields, shown as part of 'Potential Agrariansms: Will There Be Sugar After the Rebellion?, Kusthalle Bratislava, 2021
Mimi Sheller
Inaugural Dean of the Global School at Worcester Polytechnic Institute
The Caribbean Plot as Afro-Futurist Practical Utopia
Radical agronomy has deep roots in the Caribbean. From the kitchen gardens and provision plots of the enslaved as "counter-plantation" spaces, to the backlands reclaimed by the Maroons, to the creation of family land and "lakou" by the emancipated communities, to the revolutionary peasant land movements of the modern period, every generation has had a relation to food sovereignty and food justice as an emancipatory practice. This talk will situate contemporary Caribbean agro-ecological movements and regenerative agriculture within this legacy of struggle and posit that they are exemplars of a kind of Afro-futurism as practical utopia.
Annalee Davis
Artist and Director of Fresh Milk, Barbados
Wild Plants, (bush) Tea Services and (bush) Tea Plots | Considering Unsettled Histories through Contemporary Art Practice
This presentation demonstrates how art practice, archaeology, botany, and history are interwoven to reconsider unsettled histories. Resource extractive economies, protracted colonial histories and residual trauma are embedded in the Barbadian landscape, collectively contributing to the era of the plantationocene.
Responding to the chaos that sits below the soil's surface and an inner turmoil that post-colonial Caribbean societies wrestle with, the presentation shares examples of contemporary art practice that are provoked by listening to the land and imagining post-plantation economies and regenerative and reparative strategies.
Wild Plant Series, (Bush) Tea Services and (Bush) Tea Plots–A Decolonial Patch are three artworks that recognise wild botanicals as active agents in the decolonisation of farmlands, performing a quiet revolution in the soil, and asserting themselves against imperial, monocrop landscapes. These works speak to their inherent value of offering biodiversity to the landscape and historic use in bush teas, baths and medicine–covert rituals passed down through generations of Barbados' African ancestors. Furthermore, these works recognise plots as sites of resistance within the plantation. Here, members of slave societies had agency, creating sacred space while nurturing self and others within the larger context of plantation machinery. In this way, anticolonial gardening practices resisted the dynamic of the plantation, becoming spaces for survival, the creative imaginary, and a reordering of their world.
My recent commission–an apothecary located on a 17th century sugar plantation, converted to a silica sand quarry transitioning into a permaculture site, acts as a counter-garden where wild plants offer a sense of alignment with plants focussed on women's reproductive and post-reproductive health. This living apothecary, A Garden of Hope, sits within the larger hopeful vision of a post-plantation, regenerative landscape grounded in a philosophy of post-extractive ethics.
Adrienne Rooney
PhD Candidate, History of Art, Rice University
"Starting from that earth": The Caribbean Festival of Arts as a Geography of Redress
According to poet and historian Kamau Brathwaite, the inaugural Caribbean Festival of Arts (Carifesta) was one of the most important events to have occurred in the region since Emancipation. Focusing on the early phase of the ongoing, transmedia festival—inaugurated in Guyana in 1972 and followed by iterations in Jamaica (1976), Cuba (1979), and Barbados (1981)—this paper presents a theory as to why. Situating its formation in contemporaneous local discourse regarding the plantation system as the paradigm for understanding Caribbean society past and present, it argues that Carifesta was at its start a sprawling, if incomplete, geography of redress.
When artists and writers who envisioned what became Carifesta recommended inviting creative workers from the "multi-lingual Caribbean plantation culture" to partake, they identified, I posit, the shared matrix of the plantation system and the kinships it created as a logic for uniting the region across imperial language boundaries. By spotlighting Afrodiasporic and neo-slave (visual) narratives, the early festivals crucially turned an eye to the plantation as a site of not only racialised, oppressive economic production but also cultural vitality. Working with Brathwaite and fellow Carifesta participant Sylvia Wynter's coevolving eco-cultural theories locating (often through gardening/plant metaphors) the roots of Caribbean culture in the provision ground and innerplantation, this paper suggests that Carifesta's early iterations bared and celebrated a thoroughly regional cultural groundwork whitewashed by colonial aesthetics and epistemology. I put forth that the festival's roving (re)presentation, nurturing, and dissemination of cultural traditions that flourished out of and in spite of the plantation system formed a geography of repair grown from the racialised geography of the region.
Anna Arabindan-Kesson
Assistant Professor of African American and Black Diasporic Art, Princeton University
TBC
Biotic Resistance: Tidalectics
Date: Thursday, 18 November 2021
Time: 16.00-18.00
Place: Zoom On-Line Platform - REGISTER HERE

Nadia Huggins, Transformations, 2015
Elizabeth DeLoughrey
Professor of English, UCLA
Drawn by Water
There has been a long conversation in Caribbean Studies about the oceanic imaginary in which the sea represents: simultaneous origins and the future (of climate change); a sacred space of the orishas and ancestors; the fluidity of identity; the maternal body; the terrors of the Middle Passage and Kala Pani; and the more recent refugee experiences of balseros and botpippel. I place these conversations in relation to feminist theorist Astrida Neimanis's universal claim that "we are all bodies of water, in the constitutional, the genealogical, and the geographical sense." I examine theories of embodied fluidity and flow in relation to the ontological turn to wet matter at a critical moment of sea-level rise in the Anthropocene. My paper turns to the work of Deborah Jack (St Martin/US) in relation to her visual allegories of oceanic embodiment and the ways in which she produces a "Saltwater Requiem" to those bodies "Drawn By Water."
Nadia Huggins and Kimberly Palmer
Artist and Independent Researcher
Offshore Imaginations: Glimpses of Caribbean Futures
This conversation between Dr. Kimberly Palmer and artist Nadia Huggins explores Huggins' photographs through an oceanic lens with a specific focus on St. Vincent and the Grenadines. Huggins and Palmer engage the theory of tidalectics and turn an eye to Caribbean futures to generate a number of questions and conversation points specific to several bodies of Huggins' work: Black and Blue, Circa No Future and Transformations. For the Circa No Future and Black & Blue series, the conversation centers on the notion of time travel and the possibilities for a different perspective of self-awareness of the body. This analytic locus brings into focus the simultaneous freedom and vulnerability of the body within the ocean environment. Palmer and Huggins ask: what interactions are possible in the spaces of the coastal zone that are not possible on land? How does the aquatic environment provide a space to investigate humanness separate from the limiting social constructs that exist onshore? For the series Transformations, the conversation turns to the significance of visual representations of the body in the Caribbean Sea. In the context of neoliberal tourism "development" in St. Vincent and the Grenadines, the restriction of access to the beach/sea - particularly for working folks, Black folks, women, and those who identify as other - recapitulates colonial legacies. Caribbean aquatic spaces continue to be represented/rendered as "empty," primed for the insertion of the white, heteronormative and hedonistic tourist body. How does Huggins' work resist these legacies, as well as imagine and enact hopeful Caribbean futures?
Lisa Paravisini-Gebert
Professor of Hispanic Studies, Vassar College
"Hurricane PraXis (Xorcising Maria Xperience)": Visual Conversations about Hurricanes and Climate Change in the Caribbean
Sea level rise, stronger and more frequent hurricanes, worsening drought, and forced displacements are generally expected to be the main environmental changes that climate change will bring to the Caribbean. Nevertheless, the theories and concepts behind what constitutes a regional "hurricane imaginary" had seldom been explored in depth before the double impact of hurricanes Irma and Maria in 2017 brought that conversation to the fore. I want to explore what constitutes a hurricane imaginary through the visual "conversation" between Celia Sorhaindo's 2020 poetry collection, Guabancex (from which the title above is taken), and its exploration of indigenous concepts of hurricanes and destruction, and projects by three Caribbean artists: Lionel Cruet's exploration of what constitutes resilience in Flood Aftermath and Other Hurricane Stories (2020); the "colourful electricity" of Rubén Natal-San Miguel's photographs of pain and destruction against searingly vivid skies in Paradise Ruined (2017); and the various juxtapositions of displacements, family photographs ,and vanishing landscapes—of images placed against landscape/history) in the various iterations of Roshini Kempadoo's Ghosting project (2004/2009/2018). I use Sorhaindo's poetry and Kempadoo's installations, with their emphasis on ghosts, as "framing" the loss and displacements in Cruet and Natal-San Miguel—as the cornerstone of how we are beginning to articulate a hurricane imaginary against the threats of climate change in the Caribbean.
Biotic Resistance: Extraction
Date: Thursday, 25 November 2021
Time: 16.00-18.00
Place: Zoom On-Line Platform - REGISTER HERE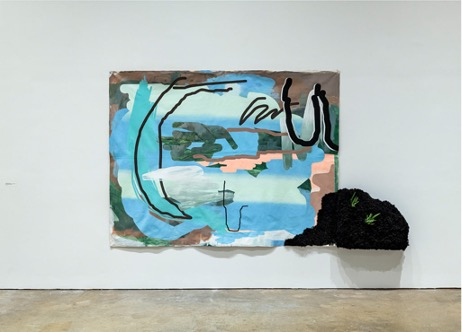 Deborah Anzinger, An Unlikely Birth, 2018
Roshini Kempadoo and Alissa Trotz
Artist and Professor at Westminster School, Professor of Caribbean Studies and Women and Gender Studies, University of Toronto
Black, Gold, Dust: Narratives of Extraction and Countering Slow Violence
Since the announcement made by ExxonMobil in 2015, Guyana is fast becoming one of the largest pIanetary offshore sites of oil and gas exploration and extraction. Extraction of commercial crude oil began in December 2019, off the Essequibo coast, northwest Guyana in the disputed ocean waters with neighbouring Venezuela.
Our conversation will take its starting point from this contested oceanic mining site to explore how the Caribbean region has been a prime geopolitical strategic resource for European wealth. We discuss how these current modes of mining resources – doing violence to human and non-human life forms – disclose contemporary legacies of colonialism and afterlives of slavery (Hartman, 2007). Black, Gold, Dust will be contextualised by Trotz's academic writings and contributions in the Guyanese media as a feminist thinker, Caribbean studies specialist and public intellectual. Kempadoo's recent artwork Like Gold Dust (2019) will also provide a jumping off point to consider how we might imagine ourselves into being by developing narratives of resistance. We wish to explore extraction as associated with the 'slow violence' (Nixon, 2011) of environmental catastrophe but also as fundamentally contested and contestable, a conversation that draws on the interventions of writers, activists and artists including Sylvia Wynter, Denise Da Silva, Arundhati Roy, Wangari Maathai, Wangechi Mutu and Ken Saro-Wiwa. Environmental activism is enacted as responses to slow, pernicious and persistent violations to the terrain and everyday life experiences particularly of those who are disempowered and often involuntarily displaced through ecological neglect, corporate greed and the ongoing aftermath of colonialism. We are particularly interested in addressing ways in which women activists counter corporate and government interests through environmental activism and develop new imaginings as important to a planetary future. Slowness in this sense may be developed as resistance and subversion, seen in response to the exacerbated harshness of capitalism as a hegemonic and temporal regime of acceleration.
Diana McCaulay
Writer and Environmental Activist
On Being the Wrong Messenger
I'm a born yah, light-skinned Jamaican, my ancestors arrived on the island in the late 1700s, and I became an environmental activist starting some 30 years ago. My presentation will explore being the wrong messenger – on being perceived as uptown, privileged, elitist, exclusionary – not, in fact, a real Jamaican. I knew from the beginning that I was the wrong environmental messenger for Jamaica – wrong race, wrong class, wrong age (a moving target, that), wrong education, wrong manner of speaking, wrong culture, wrong heritage, and that being an easy target would tarnish my message. I will describe the early years of the Jamaica Environment Trust (JET), the hurdles of building a small southern NGO, and what I learned along the way about environmental justice. I will talk a little bit about Jamaica's environmental status as well. On my writing life, I will talk about my earliest ambitions to write, from the age of 13, which were discouraged by my father, who said women could not write great literature because they did not go to war. I will speak briefly about publishing from the periphery and close with my learnings about the importance of stories for an activist – which is what brought my activism and creative work together.
Deborah Anzinger
Artist and Executive Director, New Local Space Kingston, Jamaica
Anzinger will speak on the building of a sculpture work titled Training Stations, an earthen monument and listening booth, undertaken as part of the Soros Arts Fellowship and the Penn-Mellon Just Futures Initiative in "Dispossessions in the Americas: The Extraction of Bodies, Land, and Heritage from the Conquest to the Present." The sculpture project deals with economic, familial, cultural and land dispossession, as well as processes of reclamation through intimacy, opacity, and cultivation. Anzinger focuses this through work done with a small group in the community Maroon Town, located in the Cockpit Country, Jamaica, a space contested since slavery to the present. Themes of trust and truth; land; economic, cultural and familial dispossession and the psychosocial journey of the group with respect to the aforementioned themes on a wider scale and within the space of the project will be addressed.
Sarah Jones
Date: Thursday, 2 December 2021
Time: 15.30-17.00
Place: Zoom On-Line Platform
Sarah
Some questions might bear repeating:
What if there isn't an artist?
What can I do for you?
I have accepted the invitation to become a visiting speaker this term at Ruskin.
Sid Smith will be assisting me.
Sometimes I assist Sid Smith.
About Sarah Jones - she enjoys listening to things
Sid Smith is an artist working with film and drawings that look at unstable housing, financial disparity and suppression. Her works often address the politics underpinning who makes a complaint and how it is understood.