Justin Coombes' solo exhibition, In Indra's Net
The Ruskin are delighted at the success of our Visiting Tutor, Justin Coombes solo exhibition, In Indra's Net
In this project, I imagine India's Falgu river a millennium from now, significantly altered by climate change. Two fictional botanists collect data, make scans using a mysterious machine, and take notes during an expedition near where, circa 500 BCE, the Buddha is said to have achieved Enlightenment.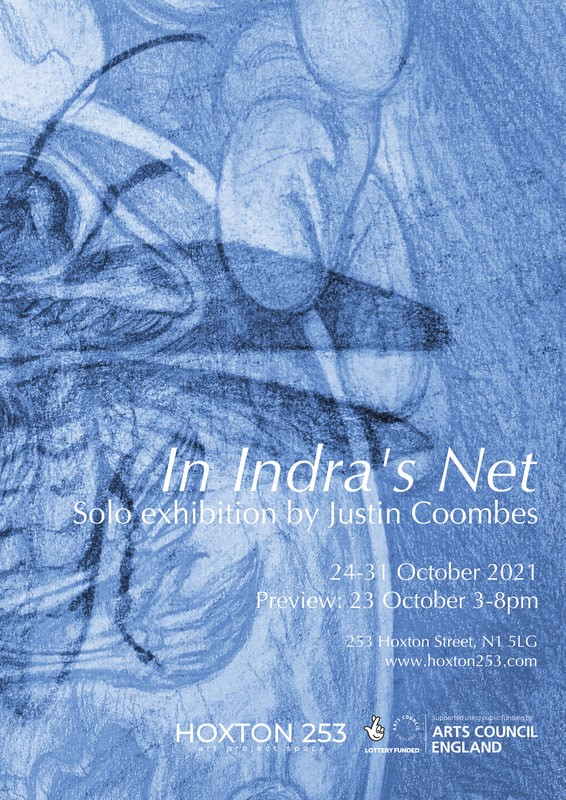 HOXTON 253 poster
The exhibition programme includes Slippery Knowledge, a panel discussion on Saturday 30th October from 5 to 7pm, where I will give a short presentation on my exhibition, and will be joined by two experts, Maitreyabandhu and Dr Michael Pocock, from the fields of Buddhism and ecology, to discuss its themes. Places are limited: to secure a seat, please book via www.hoxton253.com/in-indras-net

The show will continue until Sunday 31st October and conclude with a closing drinks reception from 3 to 7pm (no booking required).
---
HOXTON 253 art project space, London N1 5LG
Exhibition runs: 24-31 October 2021 / Mon-Fri 2-8pm, Sat-Sun 11-8pm
Opening reception: Saturday 23rd October 3-8pm
Closing reception: Sunday 31st October 3-7pm
For further details for the exhibition please see HERE