Anti-Racist Practice II
The Visiting Speakers series for Trinity Term (Weeks 1-5) is again devoted specifically to this School's antiracist agenda. We continue to question how can an understanding of anti-racist practice inform the School's teaching practices, learning practices, art-making practices, knowledge-making practices, conversational practices, critical practices, institutional practices?
The Visiting Speakers series for Trinity Term (Weeks 1-5) is again devoted specifically to this School's antiracist agenda. In this respect, the series is an extension of the work done in Hilary Term, with speakers specifically invited by way of a knowledge exchange around Anti-racist Practice. However, the series this term differs in terms of how the speakers have been invited.
For these sessions, Ruskin Tutors and DPhils have worked with BFA and MFA students who responded to the call out last term to identify/invite/host the visiting speakers. This work included students determining the kind of teaching that the Visiting Speakers might do in addition to the talk (studio tutorials, workshop, seminar, group crit, etc.).
This pilot scheme provides a structural change to the way we make invitations, host and develop our working relationships with visiting speakers.

N.B. If you are external to the Ruskin and interested in attending a talk, please send an email to Amira Hasoon (amira.hasoon@rsa.ox.ac.uk). Please say who you are, what talk(s) you are interested in, and briefly note the reason(s) you are interested in attending.
Danielle Brathwaite-Shirley: Watching Isn't Enough
Date: Thursday, 29 April 2021
Time: ​15.30 - 17.00
Location: ​On-Line Platform
A talk that demands participation to progress. We will delve into how inaction causes invisible wounds. How silence hurts those whose voices need to be heard.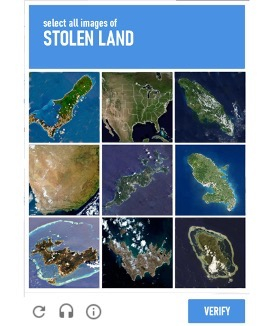 Danielle Brathwaite-Shirley, Stolen Land image
Danielle Brathwaite-Shirley is an artist working predominantly in digital media to communicate the experiences of being a Black Trans person. Their practice focuses on recording the lives of Black Trans people, intertwining lived experience with fiction to imaginatively retell Trans stories. Spurred on by a desire to record the "History of Trans people both living and past" their work can often be seen as a Trans archive where Black Trans people are stored for the future.
Dr. Faisal Abdu'Allah: The Art of Dislocation
Date: Thursday, 6 May 2021
Time: ​15.30 - 17.00
Location: ​On-Line Platform
'The art of Abdu'Allah and his contemporaries in the early 1980s can be evaluated in a manner that fills an important void within available scholarship on the subject of contemporary art in relation to Afro-British culture. What began as an artistic gesture in the 1980s more fully materialised in the early twenty-first century as a complete conceptual approach that questioned issues of race and identity in relation to issues of cultural diversity and multiculturalism. Abdu'Allah's work broke away from the British artistic establishment and the rules of institutional representation, particularly insofar as he began selecting his subjects from émigré utopia, Afro-British social consciousness, Muslim identity, and working-class life. He also integrated other views of London, portraying it as a city of dislocated communities that were powerless in the existing world of art.'
Excerpt from 'The Art of Dislocation' by Professor Barbaro Martinez-Ruiz, Michaelis School of Fine Art, University of Cape Town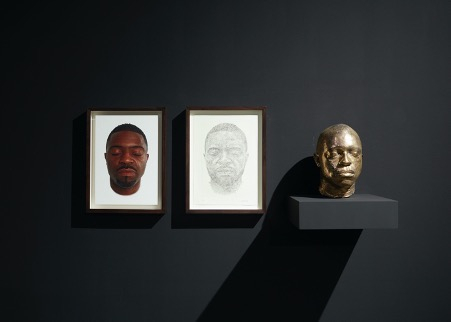 After Kosuth 1, 2012-17. Colour photograph, Photo etching, Gold-plated bronze cast.

Dr Faisal Abdu'Allah is a British artist and barber. His work has been exhibited widely including, National Maritime Museum London (2020), Foto Fest, Houston (2021) and the 55th Venice Biennale, Italy (2013). Abdu'Allah has worked on projects with fashion designer Virgil Abloh and currently working on an installation with the architect Sir David Adjaye. His works are in the collections of Tate Britain (London), the V&A (London), Chazen Museum and the British Arts Council.
Abdu'Allah was born in London and studied at the Royal College of Art. His work develops from the interface of photography, printmaking, installation, sculpture and more recently, film. He creates iconographic images of power, race, masculinity, violence and faith. In 2010 he was Visiting Professor and Artist in Residence at Stanford University. 2019 he was made an Honorary Visiting Professor at the University of Bedfordshire (UK).
Currently, Abdu'Allah is a professor and holds the prestigious Chazen Family Distinguished Chair in Art. He maintains studios in London/Madison and resides in the USA. His work is represented by Magnolia Editions (USA), Autograph Abp (UK).
Jennifer Marin: Artist Practice
Date: Thursday, 13 May 2021
Time: ​15.30 - 17.00
Location: ​On-Line Platform
The talk will survey Martin's practice as an artist filmmaker with particular attention to themes of the performativity of belonging and the instability of images. Martin's work includes narrative and experimental pieces with processes ranging from production with actors and crews to 3-D animation and works with found footage.
Martin's most recent short film TEETH follows an eager couple interrogated by UK Home Office agents who endure a series of assessments that become progressively performative to evidence their relationship's legitimacy. TEETH calls upon ideas of repetition, duration and cyclicality concerning immigration systems, proof, and performances of belonging.
Scratch the belly I bare is an unnerving experimental drama that questions whether it is possible to love without destroying some part of ourselves. The short film uses the familiar televisual setting of a reality dating show and disrupts the format to explore storytelling around queer desire, aspiration, ego, and relenting to vulnerability. Research for this project in development will be shared to contextualise the current thinking underpinning Martin's practice.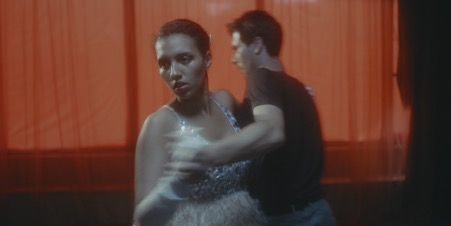 TEETH, dir. Jennifer Martin, 2021.
Jennifer Martin is an artist filmmaker, and writer based in London. Martin has exhibited and screened work in the UK and abroad with recent solo exhibitions and commissions at Primary (Nottingham), Turf Projects (London), and Cypher BILLBOARDS (London). Recent screenings include Alchemy Film and Moving Image Festival (Hawick), RIDM (Montréal), B3 Biennial of the Moving Image (Frankfurt), LUX (London), Videoclub's Selected X (UK-touring), and European Media and Art Festival (Osnabrück). She was selected for the 2018 Stuart Croft Foundation Education Award, FLAMIN Fellowship 2019/20, and was artist-in-residence at Kingsgate Workshops 2019/20. Martin is a co-director of the black-led artist worker's cooperative not/nowhere, specialising in analogue film.
Raqs Media Collective: Archives are Never at Ease
Date: Thursday, 20 May 2021
Time: ​14:00 - 15:30 (Please note change of time from usual scheduling)
Location: ​On-Line Platform
Raqs Media Collective have been working with the material traces of various forms of rule that accumulate in different kinds of archives. They use these traces as a base on which to effect subtle, immaterial transformations. These transformations conjure and anticipate ways of inhabiting time in a manner that is at variance with the way in which different ruling powers have sought to straighten and smoothen history.
Raqs will bring into discussion their reading of records, photographs, documents and letters. These range from traces of skirmishes over property, the collateral damage of surveys, and testimonies - in the forms of letters written by soldiers from the Indian subcontinent - from the battle-fields and barracks of World War One.
Together, these moves argue for a rethinking through art of the sensorium of haunting, of persistent currents, and of in-soluble residues

"Not Yet at Ease", 2018, variable dimensions. 8 video projections, 16 track audio, architecture, furniture.
Based in New Delhi, Raqs Media Collective comprises three practitioners: Jeebesh Bagchi, Monica Narula, and Shuddhabrata Sengupta. For the past three decades, the Collective has been concerned with urbanism, epistemology, technology, globalisation, and the experience of time. Drawing upon critical theory and political philosophy, their work is marked by active inquiry, double-meanings, pluralism, and entanglement.

George Chakravarthi: Being Seen and Being Seeing
Date: Thursday, 27 May 2021
Time: ​15.30 - 17.00
Location: ​On-Line Platform
Spanning a journey of over thirty-four years of 'the self' as practice, George Chakravarthi talks through his journey of making, recording and analysing the self through a number of selected works. Beginning with photo booth images in the 1980's to current visual research, which examine the nature and nurture of identities within the framework of race, religion, gender and sexualities.

*some nudity and explicit language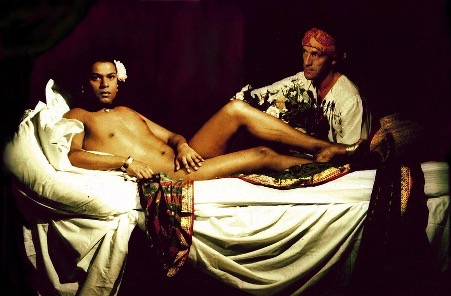 Olympia 2003 - video installation, duration: one hour, projection dimensions variable. (Copyright George Chakravarthi 2003 @iamgeorgechakravarthi)
George Chakravarthi is a multidisciplinary artist who works with visual and live art performance using his body and image to explore the politics of identity. He also employs religious and spiritual iconography referencing his multi-faith upbringing, predominantly Hinduism and Catholicism. As a multi-disciplinary artist, he draws inspiration from a diverse range of cultures, histories and practices. Specific public sites and private spaces are integral to the work, as are autobiographical and collective social and visual histories. His own physical presence throughout the works has been vital in creating dialogues about the body as site, visibility, race and queer identities. Cultural spaces and institutes often act as platforms to reveal fresh discourses about histories, politics and heritage.

In recent years he's begun to steer his work slowly in the direction of the ethereal, mystical and esoteric knowledge and ideas, particularly related to the body and to nature. Culture-specific rituals and Yogas are explored in his ongoing photographic series, The Ambidextrous Universe. Chakravarthi has also been exploring Indian tribal and spiritual practices as a tool to move away from form identity and towards the essence identity.

He has performed and exhibited nationally around the UK at venues including Tate Modern, Victoria and Albert Museum, Royal Shakespeare Theatre, Shakespeare Birthplace Trust, Site Gallery, and internationally in Germany, Spain, Norway, Netherlands, Austria, USA and India. He has studied at The University of Brighton, The Royal Academy of Arts and The Royal College of Art.