The New Sylva: Drawing Trees with Sarah Simblet
Running from Monday 20 - Friday 24 August, this five day non-residential course based on Sarah's most recent Bloomsbury publication The New Sylva, focuses on the pleasures, practicalities, science and meaning of going out into the landscape to draw trees.
Cedar of Lebanon, Sarah Simblet
Set in the studios of the Ruskin School of Art in central Oxford, and in the exquisitely beautiful gardens and parkland of nearby Rousham House in West Oxfordshire, this course is suitable for both the beginner and the more experienced traditional or contemporary artist.
Top: Drawing Studio, the Ruskin; Bottom: Rousham. Photos: Pslam Kivinen
You will begin by making your own large sketchbook and then spend four days filling pages with observational and expressive drawings of trees made in pen and ink and other media of your choice. Working outdoors, you will learn how to compose atmospheric views through a woodland, set out a majestic portrait of an individual tree such as an ancient Oak or Sweet Chestnut, and makes studies of fruit trees in an old orchard. You will also produce closely-observed studio drawings of a seedlings and fruiting stems of species such as Apple, Maple, Hornbeam or Ash.
A short interview with Sarah disucssing the art of drawing trees can be seen here
Sarah's instructional and artistic skills are indescribably excellent, inspiring and helpful to students at all levels. Superb - Course Participant 2017
By Sarah Simblet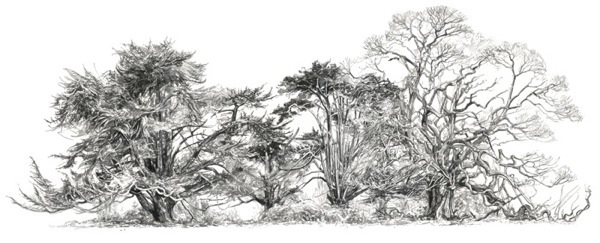 Programme
Day 1
am: Sarah presents her own work and explains many of the practicalities of drawing. She then demonstrates how to make your own sketch book.
pm. Make your own large sketch book to use for the rest of the week.
Day 2
am: A practical look at the morphology of trees using abundant fresh material.
pm: Structural drawing of 'Winter branches', learning to distinguish species.
Day 3
First visit to Rousham House. First drawing fruit trees in the orchard, then drawing a majestic ancient tree. Observe Sarah drawing and make your own.
Day 4
am/pm: Studio drawing: Looking at the leaves, flowers (if available) and fruits of trees.
Day 5
Second visit to Rousham House to draw in the woods on the bank of the river Cherwell all day. Sarah will lead a morning walk through the woodland and park identifying trees and explaining the characteristics of different species. Watch Sarah drawing and compose your own expressive views with one-to-one tuition.
The course concludes with a group critique and glass of Prosecco at Rousham.
Each teaching day begins at 10am and finishes at 5pm. You will be working in the studios at 74 High Street for three days and outdoors for two days. The Ruskin provides transportation to and from Rousham House and a picnic hamper, with hot and cool drinks for the days you spend outdoors. There are many sheltered places to draw at Rousham. Alternative plans are in place in the event of extreme weather conditions.
When in the studios, the school offers refreshments all day and the many restaurants and cafes near the school are available for lunch.
There are a maximum of 16 places. Ruskin courses are available to adults over the age of 16 years. The usual age range of participants is about 16 to 75. No previous knowledge or experience is needed.
Booking a Place
Booking is only via the University of Oxford's online store. We regret that the Ruskin cannot reserve places or take payment for bookings.
There are three payment rates available :
i) Standard Adult : £780.00
ii) Oxford University students, staff and alumni (10% discount) : £700.00
iii) Students (with a current NUS card) and OAPs (5% discount) : £740.00
If you select a discounted booking rate, you will need to present your University alumni/staff card, NUS card, or some form of identification indicating your OAP status at the start of the course.
Cedar of Lebanon, Sarah Simblet
These courses are non-residential – participants must arrange their own travel and accommodation. To enjoy the full Oxford University experience, we recommend booking accommodation in nearby colleges through University Rooms (guests must be 21 or over, or accompanied by someone over 21).
Cancellation Policy
For information on the Ruskin's cancellation policy in relation to the summer courses, please refer to the short course introductory page