Exploring the Exotic Still Life
Exploring the Exotic Still Life is a six-day non-residential painting course with Ruskin alumna, artist and tutor Clova Stuart-Hamilton. Participants will have the unusual opportunity to produce a small body of work from a large, multi-aspect still life/mock interior, loosely referencing Matisse's Moroccan period. Based in the Ruskin studios, the programme will also include a lecture from a visiting speaker and a visit to the Ashmolean Museum.
Course dates: Monday 5 - Saturday 10 August
This is a broad course inviting a range of stylistic approaches. Workshops on the versatile and forgiving medium of gouache will demonstrate its suitability for an observational study or an eye-catching decorative statement.
The abundant possibilities for arresting compositions that the vibrant colour harmonies, bold decorative shapes and patterned textiles offer will be investigated. The exotic construction will have been knowingly assembled to enable positive outcomes for painters with a range of abilities and painting styles. Beginners should have a little knowledge of colour mixing and drawing on which to build - however, there will be plenty to stretch and stimulate the more advanced. After the introductory exercises, students can elect to work on one substantial piece or many.
Geoffrey Cunningham, Course Participant 2017 
The striking hues, strong composition and the use of pattern and decorative motifs of artists such as Matisse, Vuillard, Anne Redpath and Matthew Smith will be examined and discussed. In turn, these works from the late 19th/ early 20th centuries will be contextualised by examining earlier examples of the genre in the Ashmolean Museum, notably, the exceptional Daisy Ward Collection of seventeenth-century Dutch and Flemish still life.
By the end of the course, participants should have not only completed a substantial painting (or two) using a new medium but also amassed strategies for recording shapes, judging proportions and creating successful compositions. In addition, acquiring a greater confidence in analysing colour and deploying it purposefully. It is also hoped they will have more insight into how they might set up and paint from their own collections of objects.
"The Exotic Still Life Course was by far the best art course I have ever attended. Superb teaching, individual attention, extremely well-structured, wonderful still life subject clearly planned with immense care & expertise. Work of other artists sensitively presented to illustrate practical painting approaching to subject as the course unfolded. I'm immensely grateful to all involved in putting it on, including the staff who took care of keeping us supplied with refreshments." Course participant 2018
Programme
Teaching is based in the Ruskin's studios at 74 High Street, Oxford OX1 4BG. Each teaching day runs from 10am to 5pm and the studio is also open for personal study from 9am to 6pm daily.
The materials and equipment required for painting in gouache will be supplied, including paints, water containers, brushes and palettes plus heavy watercolour paper or board to paint on. Students can bring additional brushes and a sketchbook and pencils if they wish.
Light refreshments are available all day. Lunch can be purchased from a range of nearby cafes and delicatessens.
For further information, please email shortcourses@rsa.ox.ac.uk, or phone: +44-(0)1865 276940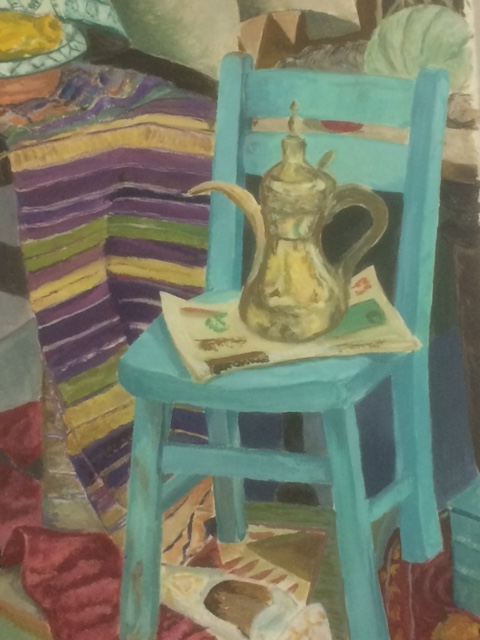 Margot Gillespie - Sixth-Form Course Participant 2018  
Booking a Place
Tuition is in English. No academic or artistic criteria are required for attendance on this course although all participants must be 16 and over. Please be aware that there is limited disabled access at the Ruskin.
There is a maximum of 12 places on this course.
Booking is done through the University of Oxford's Online Store. We regret that the Ruskin cannot reserve places or take payment for bookings.
There are three payment rates available :
Standard: £900.00
Students and over-65s (5% discount): £855.00
Oxford University students, staff and alumni (10% discount): £810.00
If you select a discounted booking rate, you will need to present your University alumni/staff card, NUS card, or some form of identification indicating your status at the start of the course.
These courses are non-residential – participants must arrange their own travel and accommodation. To enjoy the full University of Oxford experience, we recommend booking accommodation in nearby colleges through University Rooms (guests must be 21 or over, or accompanied by someone over 21).
Cancellation Policy
Please note the Ruskin's cancellation policy for the summer short courses. These policies are in contrast to the terms and conditions listed on the online store and take precedence over that policy.
A Deposit, calculated as 15% of the course fee, applies to all courses.
Any booking that is cancelled more than one month before the start date of a course will receive a refund of any fees paid minus the Deposit.
Cancellations received within one month of the start of a course will not be eligible for any refund. The Ruskin strongly recommends that customers take out travel insurance against loss of the course fee in case they need to cancel at short notice due to unforeseen circumstances.
Where a customer wishes to cancel a place on one course and transfer to another, this refund policy will normally apply.
The Ruskin reserves the right to cancel a course up to one month before the start date of a course, beyond that point, a course will be guaranteed. If a course is cancelled by the school, participants will be refunded in full.
Orchid and Blue Chair, by Clova Stuart-Hamilton