Deconstructing the Cubist Still Life
Deconstructing the Cubist Still Life is a 4-day non-residential course, which uses drawing, painting and collage to bring alive the innovations in form and style that were implemented by Braque and Picasso over a century ago. Returning in 2019, the course will run from Tuesday 30 July to Friday 2 August.
Inspired by Synthetic or Late-period Cubism, there will be three evocative still-life assemblages: one based around the musical instruments which are so characteristic of these works, and two others drawing upon the continental café milieu that provided such a rich seam of imagery for Cubist painting, drawing and mixed media collage.
Prachi Bhatnagar, Course Partcipant 2017
They will be the focus for multi-angular drawings and the source of colour, pattern and texture, which will enrich the final mixed media project, as well as creating an ambience for what should be a liberating and immersive experience. Students will approach this sustained piece through carefully structured exercises, which will eventually be synthesized to provide the basis for their composition.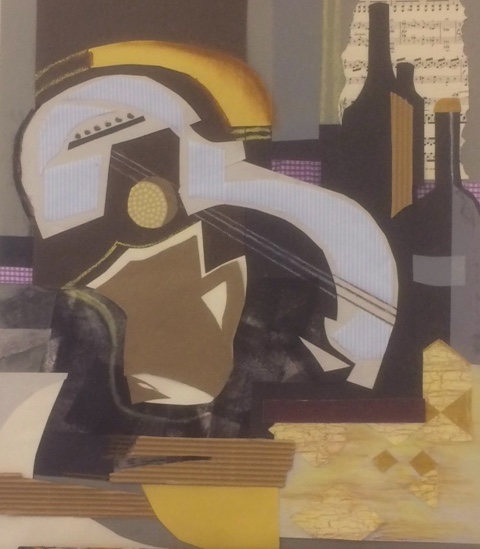 Fredrica Craig, Course Participant 2018
There will be plenty of scope for a personal response in the final project. The diversity of approach exhibited in the works of Picasso, Braque and Gris will be discussed, as will that of their followers. More or less abstracted, austerely simple or complex, richly decorative or restrained, idiosyncratically colourful or muted - there will be a multiplicity of approach possible for all levels of experience and taste.
Although a modest knowledge of drawing and colour mixing could be an advantage, a willingness to engage with the challenging yet often playful aspects of Late Cubism and the experimental possibilities of combining drawing media, paint and collage, is just as important.
By the end of the course - which will include a lecture, discussions, and a museum visit - it is hoped that participants will have understood why Cubism was one of the most transformative forces in Western Art.
Equally, students will have:
* acquired strategies for using collage
* learned to judge and mix colour more accurately
* have studied the elements of composition
* appreciated the role tone can play in a composition
* tried some new painting techniques
* have an enhanced understanding of abstraction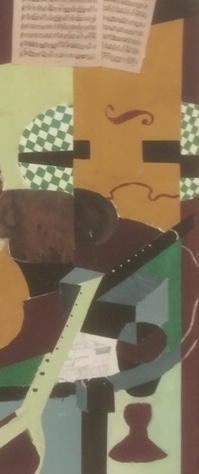 Detail Of Collage By Marc Lindgren - Sixth-Form Course Participant 2018
"Rigorous and attentive teaching: I discovered many aspects of Cubism that I'd barely noticed before. I have learnt loads and broken away from my worryingly conventional norm. I appreciated the generous quantity and variety of materials." Participant 2018
Programme
Day 1
Basic drawing revision (if needed)
Lecture - Lynne Gibson: Bizarreries Cubiques
Multi-angular drawings from still life
Introduction to concept of fragmentation and Cubist drawing techniques
Day 2
Focus on colour harmonies associated with Synthetic Cubism, referencing key artists and the still life
Introductory exercise using collaged elements
A guide to tighter composition
Initial Development of exercises into a design for final work
Day 3
Experimentation with decorative and highly textured paint techniques
Selection of preferred media
Further development of design for final work
Commence final mixed media composition
Visit to Ashmolean
Day 4
Individual tuition as personal Cubist-style image evolves
Group discussion on progress
Continue with project, refining colour, texture and detail
Plenary and appreciation of works produced
Teaching is based in the Ruskin's studios at 74 High Street, Oxford OX1 4BG. Each teaching day runs from 10am to 5pm and the studio is also open for personal study from 9am to 6pm daily. There is plenty of studio space and all materials are provided.
Light refreshments are available all day. Lunch can be purchased from a range of nearby cafes and delicatessens.
Tuition is in English. No academic or artistic criteria are required for attendance on this course although all participants must be 16 and over. Please be aware that there is limited disabled access at the Ruskin.
For further information, please email shortcourses@rsa.ox.ac.uk, or phone: +44-(0)1865 276940
Booking a Place
There is a maximum of 12 places on this course.
Booking is done through the University of Oxford's Online Store. We regret that the Ruskin cannot reserve places or take payment for bookings.
There are three payment rates available :
Standard: £600.00
Students and over-65s (5% discount): £570.00
Oxford University students, staff and alumni (10% discount) : £540.00
If you select a discounted booking rate, you will need to present your University alumni/staff card, NUS card, or some form of identification indicating your status at the start of the course.
These courses are non-residential – participants must arrange their own travel and accommodation. To enjoy the full University of Oxford experience, we recommend booking accommodation in nearby colleges through University Rooms (guests must be 21 or over, or accompanied by someone over 21).
Cancellation Policy
Please note the Ruskin's cancellation policy for the summer short courses. These policies are in contrast to the terms and conditions listed on the online store and take precedence over that policy.
A Deposit, calculated as 15% of the course fee, applies to all courses.
Any booking that is cancelled more than one month before the start date of a course will receive a refund of any fees paid minus the Deposit.
Cancellations received within one month of the start of a course will not be eligible for any refund. The Ruskin strongly recommends that customers take out travel insurance against loss of the course fee in case they need to cancel at short notice due to unforeseen circumstances.
Where a customer wishes to cancel a place on one course and transfer to another, this refund policy will normally apply.
The Ruskin reserves the right to cancel a course up to one month before the start date of a course, beyond that point, a course will be guaranteed. If a course is cancelled by the school, participants will be refunded in full.