Aluminati, Trinity Term 2018
Greetings to all Ruskineers! We are looking forward to seeing you again soon and attach a message from the Head of School and news from tutors and students.
Message from the Head of School, Professor Anthony Gardner
Trinity Term at the Ruskin brings both the promise of warm weather and the energy of putting up the Degree Show, the culmination of years of study for our MFA students and BFA finalists. Exhibition spaces have been allocated, finishing touches are being put to artworks and the last tutorials of the academic year are taking place. Students and tutors alike are working with great spirit and collegiality to make the Degree Show a success and another memorable event in the history of the school.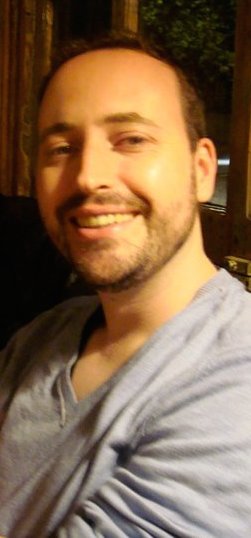 The year has gone very fast, but has brought with it many fantastic achievements. In Michaelmas, we welcomed Oreet Ashery and Samson Kambalu as new Associate Professors in Fine Art at the Ruskin; Oreet is based at Exeter College and Samson at Magdalen. Soon after, we received the brilliant news that Oreet had won the Jarman Award, one of the UK's most prestigious awards dedicated to moving image work, while Samson staged a solo show to inaugurate the Zeitz MoCAA (Museum of Contemporary Art Africa) in Cape Town.
Michaelmas also saw the release of Professor Daria Martin's book on mirror-touch synesthaesia, published by Oxford University Press, which complements her ground-breaking films on the subject, as well as a magnificent solo exhibition, called "Endnote, Tooth" by Professor Ian Kiaer at the Musée d'Art Moderne in Paris. A new book on Ian's work is in preparation following the exhibition, so look for it in your local bookstore soon!
Hilary Term brought further successes. Current DPhil student Brook Andrew and Ruskin alumnus Oliver Beer received glowing reviews for their new work at the 2018 Biennale of Sydney, Superposition curated by Mami Kataoka, while Corin Sworn was nominated for the Margaret Tait Award for artists in Scotland using moving image. Corin has been on research leave for two years, supported by the Philip Leverhulme Award she received in 2015 for her outstanding contributions to visual art; we can't wait to have her back at the Ruskin in October. She will be joined by a new half-time Associate Professor in Fine Art, based at Lady Margaret Hall, and the wonderful new developments and opportunities that the new academic year promises. We look forward to continuing the conversations with our close community of alumni, tutors and students.
Ruskin Staff Introduction
Oreet Ashery
This year I've joined the permanent staff team at the Ruskin as an Associate Professor. In this capacity, I've been co-convening the DPhil seminars as well as being a first year tutor. Last week I took part in the day long Performance Symposium run by the Ruskin's students and delivered a presentation about Episode Six, from my web series Revisiting Genesis, 2016, titled Charles Keene College, about the social and interdisciplinary artistic legacy of a community college in Leicester that was demolished in 2010. I won the Jarman Film Award in 2017 for Revisiting Genesis (http://revisitinggenesis.net), as well as for my ongoing practice in film and performance. (http://filmlondon.org.uk/news/2017/november/oreet_ashery_wins_10th_film_london_jarman_award).
As I write this, later today I am part of a lunchtime informal workshop open to all and chaired by Jane Garnett, at TORCH (The Oxford Research Centre in the Humanities) looking at ways in which research deploys a queer lens to transform, disrupt and challenge fields of scholarship. This past year has also been somehow a year of Biennales with solo presentations at Thessaloniki Biennial, Greece, Rennes Biennial, France and The Kochi-Muziris Biennale in India. I spent last summer in Chile where I had a museum show in Santiago and where I went to the Ocean to meet Ciudad Abrierta (Open City), part an artistic community, part pedagogical experiment, and part hands-on architectural laboratory. I look forward to see you all at the degree show and celebrate the Ruskin community.
© Oreet Ashery, Revisiting Genesis, web series still, 2016
Samson Kambalu
"The Dam We" – Samson Kambalu at Ruskin School of Art, Oxford
I am interested in contemporary art and cinema as praxis. I watched a lot of action-packed itinerant cinema growing up in Malawi, and the memory of it still tells me things – even at Ruskin walking into seminars and tutorials wearing my cowboy hat.
I came in from London, and Oxford has been a pleasant change. I have very much enjoyed working with the super-talented students and staff here, and the social life in the colleges. I am still trying to figure out where the soul of this beautiful place is though - I think I am getting there. Magdalen College, where I am a fellow of fine art, has given me for a studio salon a cottage which once housed the poet Dylan Thomas. I am sure that's the place that holds the key to the soul of Oxford for me. I am calling this studio The Dam We Studios – dambwe is a place in the bush where the Chewa tribe of my father invoked new masks. I have not started work there yet but I will soon.
Ruskin Library News
My name is Laura Unwin and I'm the new Librarian at the Ruskin School of Art. I have previously worked in arts administration and library roles at the Hayward Gallery, V&A and in Sydney, Australia.
I am really enjoying my role as the Ruskin Librarian and assisting the students and staff with their enquiries. Firstly, I have been trying to streamline some of the library policies, we have created a new internal library committee and I have put together a collection management document that outlines information on access, acquisitions, donations and loans. I have also carried out a survey to inform how the library can develop in the future so it can continue to be a key school resource.
The 2017 Human Anatomy Prize was won by Rhian Harris-Mussi and is currently displayed in the Ruskin Library, we're looking forward to finding out who will claim the prize for 2018.
Research News
Corin Sworn
I am presently away from teaching, pursuing research funded by a Leverhulme Prize. My general areas of attention are: Motifs of flexibility and the performance of identity on the early modern stage; Contemporary ideals of flexibility as strategies for coping amid precarious working conditions and extended temporalities; Possible analogies between the effects of the early modern stage as itinerant and travelling and the extreme mobility of the contemporary screen.
This research has occurred through collected readings, meeting with academics for discussion, performing 'working scripts' to test elements of performance and aspects of research, as well as working with dancers to explore physical flexibility and how the overburdened body might manifest.
Some of this research has recently materialized in an exhibition for Glasgow International 2018 entitled WORK HOUSE.
WORK HOUSE 2018 courtesy Koppe Astner photo: Max Slaven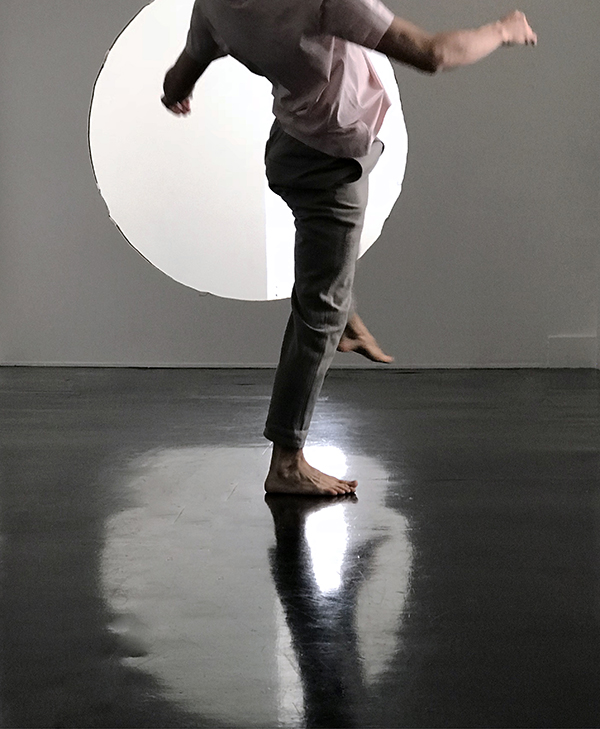 There is Movement 2018 courtesy Koppe Astner photo: Kendall Koppe
Student Voices
Harry Coday BFA2 (St Edmund Hall)
Two busy weeks of clearing, building, painting and installing lie ahead as I write this - but the BFA and MFA degree shows that lie at the other end promise to be worth all the extra work!
Alongside a busy schedule of crits, lectures, seminars and visiting speakers, the Ruskin's student-led Performance Club and Screenings programme continue to thrive – with events like Ruskin Shorts at Modern Art Oxford and the Performance Symposium being highlights of the year so far. Work coming out of the studios both on the High Street and Bullingdon Road is as varied as ever, and was reflected for the first time in the Egerton Coghill Landscape Prize's relaxed criteria to accept not only painting, but print, photography, video and even documented performance. As one of many smaller exhibitions throughout the year, this offered a great chance for all years at the school to show their work together.
As a second year, I have taken the chance to develop and experiment with my practice, creating slow and looping computer-generated videos that explore ancient histories through modern civilisation and its new technologies and aesthetics. I have also been busy launching a new journal for art-writing based at the Ruskin but open to anyone at the University, in order to broaden the discussion about contemporary art in Oxford. Art Review Oxford is a casual platform for anyone to share their reviews and reflections on art. The first issue shares reviews of exhibitions in cities from Oxford to Buenos Aires, as well as alumnus, Frieze editor-at-large and former Turner Prize juror Dan Fox's reflections on his time at the Ruskin and subsequent 'identity crisis'. The magazine, supported a great deal by the Ruskin, hopes to launch every term and is open to written and image submissions of any kind.
Still from Mosul Dam (1984-), Harry Coday
Kevin Slingsby Prize for Funnel Vision
Holly Slingsby offers an update on this year's prize in memory of her father, Kevin, who worked for more than twenty years in the studios at Bullingdon Road.
Still from winning video for the Kevin Slingsby Prize for Funnel Vision 2018, Sid Smith
For the 2018 Kevin Slingsby Prize for Funnel Vision, I was joined by Chloe Dewe Mathews as guest judge and Tom Woolner as staff judge. In the 12 year history of the prize, this was the first year that the full judging panel was comprised of Ruskin alumni, which gave us a special perspective on the students' work. We received a high number of entries for the prize which led to fascinating discussions, both during shortlisting and on the day of interviewing.
The prize was awarded to Sid Smith, whose nuanced and sophisticated video works impressed the panel, as did her rigorous attitude to her work. We look forward to seeing her work in the Degree Show and in the future.
Holly Slingsby, BFA 2006
Easter Project 2018 & Art of Anatomy Exhibition
'In medicine anatomy is applied, in art it is transformed', Cecil Erskine
Adam Story, Untitled (Anatomy Easter Project), 2017
Alumni will remember that one of the unique aspects of the Ruskin BFA is the first year course in Anatomy (currently taught by Dr Sarah Simblet). It may be considered anachronistic in a programme of contemporary art practice (we believe that the Ruskin is the last art school in Europe where art students study directly from cadavers, though I understand there are art degrees in Canada and Australia where artists still work in 'wet labs'!). However, the Easter Anatomy Project is a highlight of a BFA student's first year - we often hear how much the students have enjoyed it, and the work produced is always diverse and surprising, exploring beyond the conventional and technical.
The Ruskin has always enjoyed a happy relationship with the University's Department of Physiology, Anatomy and Genetics (DPAG), which allows the Ruskin first years to spend their Anatomy sessions in Hilary Term working at the Anatomy School at Medical Sciences Teaching Centre. This year, DPAG has approached Sarah Simblet and the Ruskin to collaborate on an exhibition on the Art of Anatomy.
The exhibition will include the about fifteen works by Ruskin students from Easter Projects in the last 3 years, alongside the explorations of leading anatomists, including Zoltan Molnar (Oxford) and Clive Lee (Dublin) exploring how art transforms anatomy, both historically and in contemporary practice. This exhibition, which will be open from Saturday 14 - Wednesday 25 July (dates and opening times tbc), will give exposure to the Ruskin's integration of the scientific study of anatomy into a fine arts education, to both a large audience of international scientists, as well as the wider public.
Lucy Till-Awny & Sarah Simblet
Degree Show Invitation
Our graduating students, from the BFA & MFA courses, warmly extend an invitation to our alumni to come to their shared Degree Show!
Dear All
You are cordially invited to The Ruskin Degree Shows 2018.
We look forward to catching up over a glass of wine, (or meeting you) and sharing our experiences and work with you.
Private View: Friday 15th June, 6pm
Open: Sat 16th, Sun 17th & Wed 20th June, 12-6pm
We sincerely hope you will be able to attend our exhibition,
Ruskin MFA and BFA Finalists
GDPR
As you know, the new General Data Protection Regulations came into effect recently, on 25th May to protect personal data and electronic privacy.
You are currently on our Ruskin alumni mailing list to receive this newsletter and other School updates and no action is required from you if you are happy to continuing here from us.
Should you wish to unsubscribe from this list however, please simply let us know.
Please rest assured that we will never share your details.