Artist Residency at St John's College.
The Ruskin School Art collaborates with St John's College, Oxford on nominating artists for its annual residency.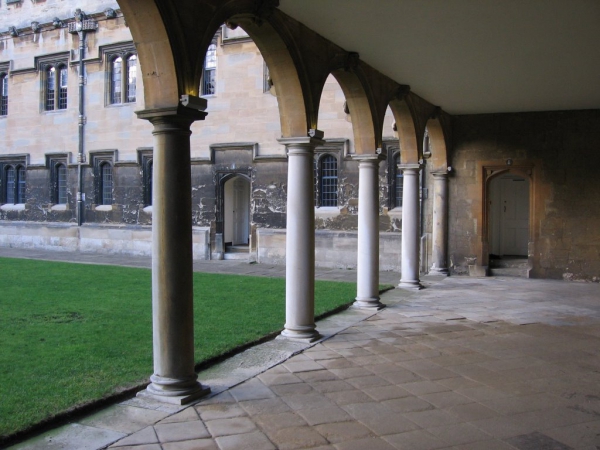 The College works with a panel of expert nominators who suggest artists and the nominees are invited to apply for the residency. The residency lasts for ten weeks from April to June and the chosen artist is likely to be already established or on the threshold of a successful career. While there are no fixed responsibilities associated with the post, there is an expectation that the person appointed will contribute to the artistic and cultural life of the College.
Founded in 1555, St John's College is one of the oldest colleges at the University of Oxford. Like all the colleges, it is an independent, self-governing establishment which functions both as an academic institution and as a social and residential centre for its members. The College has approximately 400 undergraduates, more than 250 graduates and around 100 fellows, and most of the subjects on offer at Oxford are studied there.
Edward Thomasson, Artist in Residence in 2017, studied at the Chelsea College of Art & Design and the Slade School of Fine Art. He works with groups of trained and untrained performers to make videos and plays that explore how performance is used to navigate personal, interpersonal and occupational problems. Specifically looking at how the act of storytelling is used as a way to understand environments and exchange experiences, Thomasson's work draws on the language of musical theatre and its affective engagement with the audience to navigate the space between interior experience and exterior presentations of the self within social contexts.
Thomasson also works collaboratively with Lucy Beech on live works. These choreographed group activities refer to therapeutic games and often involve the live collective construction of sound. Thomasson and Beech currently have an exhibition at Tate Britain in London (from 25 April to 18 June). This performance project is in two parts exploring ideas of co-operation and independence. Together is performed every Saturday in the gallery at Tate Britain. Together (Forever), its recorded companion, loops in the gallery throughout the week. Working in couples, the group collectively construct a safe space to momentarily reject shared social standards.
2017 Edward Thomasson
2016 Ross Sinclair
2015 Gareth Jones
2014 Ciara Phillips
2013 Chloe Dewe Mathews
2012 Corin Sworn
2011 Jordan Baseman
2010 Zeena Parkins
2009 Robert Beavors and Mary Lum
2008 Matmos (Andrew Daniel & Martin Schmidt)
2007 Olivia Plender, DD Dorvillier and Victor Morales
2006 Grace Weir
2005 Wendy Ramshawe
2004 Joe Winkelman
2003 Alex Cox and Tod Davies
2002 Sophy Rickett
2001 No appointment
2000 Hughie O'Donoghue
Organised by St John's College, Oxford in association with the Ruskin School of Art. Enquiries about this residency should be addressed to Professor Daria Martin via info@rsa.ox.ac.uk